Less than one year after assuming the role of Sean Bridges, David Lee Russek (Sean Bridges) has decided to call it quits.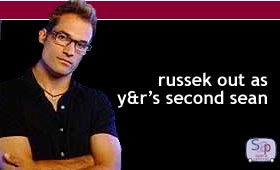 Russek took over the role of Sean on The Young and the Restless on August 6, 2001, after it was announced that Christopher Douglas had been let go. Douglas created the role on March 29th. His dismissal was mired in supposed controversy between head writer Kay Alden and then-executive producer Edward Scott.
A spokesperson for The Young and the Restless confirms Russek's exit, saying that the departure will be "storyline dictated." The spokesperson declined to comment on whether or not the role would be recast.
Russek does not rule out a possible venture to another soap, however, the actor states that it would be hard to match the experience that he had at Y&R.
A final airdate for Russek was not available.