Denice Duff (Amanda Browning) and Daniel Quinn (Ralph Hunnicutt) will both be exiting The Young and the Restless next month.
The pair, which play Mackenzie's mother and stepfather, respectively, will exit when their contracts expire. A spokeperson for the show explains that the exit is storyline dictated.
Duff joined the show in August 2001, but Quinn is even more of a newcomer, having joined the show in April of this year.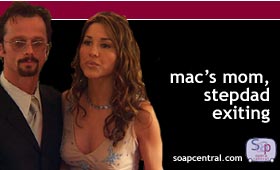 The two actors join a growing list of stars who have exited the show in recent months. In the first six months of this year, the show has seen Shemar Moore (ex-Malcolm Winters), Ashley Bashioum (ex-Mackenzie Browning), Alexis Thorpe (ex-Rianna Miner), Alexis Robinson (ex-Alex Perez) and Diego Serrano (ex-Diego Guittierez) bow out. David Tom (Billy Abbott) and David Lee Russek (Sean Bridges) are also slated to exit by the end of the summer.
Duff and Quinn make their final on-air appearances on July 3rd. A Y&R spokesperson declined to comment on the possibilities of the pair popping up again in the future.