Lauralee Bell (Christine Williams) has once again taken maternity leave from The Young and the Restless. But fans of the actress can rest assured that this leave will be much shorter than the nearly one-and-a-half-year break she took last time around.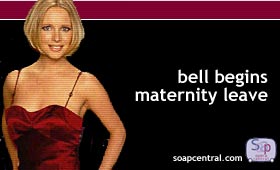 Bell and husband Scott Martin are expecting their second child, a girl, in November. Bell expects to return to work by year's end, but a definitive return date has not yet been set.
Bell took her previously maternity leave in December 2000 and didn't return to active duty on the show until March 2002. During her extended absence, Bell did make several cameo appearances.