Ryan Brown (ex-Bill Lewis, Guiding Light) has been tapped to play Billy Abbott on The Young and the Restless.
Brown is not a stranger to daytime television. From June 1998 through the Spring of 2001, Brown appeared as Bill Lewis on CBS's Guiding Light. Brown was released from the show when head writer Lloyd "Lucky" Gold assumed the helm of the show and decided that Brown's character did not fit into his vision for the show.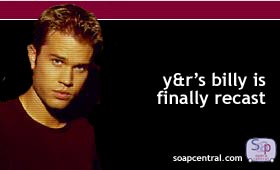 The search for a new Billy Abbott apparently proved difficult for the show's casting department. According to a set-side source, the writers had wanted to bring Billy back to the canvas earlier than December - but were unable to find a suitable replacement for Emmy winner David Tom. Other stars said to have tried out for the part include Passions' Bruce Michael Hall (Reese Durkee).
Tom opted to leave Y&R when his contract expired this past fall. To assist the show in wrapping up storyline, Tom agreed to remain several weeks beyond the expiration of his contract. Talk of a recast popped up almost immediately and the show had actively sought out actors to take over the role from Tom.
Brown began taping on November 14. His first airdate is December 26.