Fans of Lauralee Bell (Christine Williams will be pleased to know that the actress has returned to work on The Young and the Restless.
After taping scenes on September 27, Bell went on maternity leave. Those she stopped work in September, Bell's scenes aired through early November. Bell gave birth to Samantha Lee on October 28.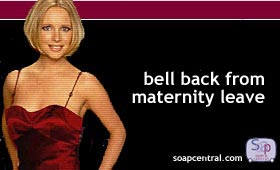 Bell's previous maternity leave lasted a lot longer than many fans expected. Bell exited The Young and the Restless in December 2000 and did not return to the show full-time until April 2002. During this extended hiatus, Bell did make several guest appearances. The lengthy leave raised the eyebrows of some fans, who questioned if Bell was receiving preferential treatment because she is the daughter of show creator William J. Bell. Other fans were critical that storyline was progressing too slowly because Christine was not part of the canvas and asked that the role be recast -- even if the recast was just temporary. However, a poll conducted on Soap Central last year showed that a sizeable portion of the viewing audience admitted Bell for taking time out to be a mom.
Bell makes her return in early January.