The Young and the Restless, according the setside sources, is preparing to trim its roster. The chatter seems bolstered by a recent move to release three performers from their contracts.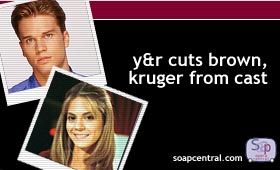 Eva Longoria Christopher (Isabella Brana) will exit The Young and the Restless later this month in what is called a "shocking" plot twist. Longoria joined the cast of Y&R in February 2001 and was recently named one of People en Espanol's 25 Most Beautiful People. The actress is married to General Hospital star Tyler Christopher (Nikolas Cassadine), who recently returned to the ABC soap following a several-year hiatus.
Also out is Kelly Kruger (Mackenzie Browning) in what a show spokesperson calls a "storyline dictated" departure. Kruger was added to the Y&R canvas in February 2002, following the departure of Ashley Bashioum. Kruger quickly made the role her own, but didn't win over fans as easily as the show might have hoped. Kruger makes her final appearance on July 1st.
Though initially denied by the show, Ryan Brown (Billy Abbott) has also been let go. Brown joined The Young and the Restless in December 2002. The former Guiding Light star had the difficult task of following Emmy winner David Tom in the role of Billy Abbott. Like Kruger's exit, Brown's release is also said to be storyline dictated. Brown will last be seen on-screen on July 16.
A show spokesperson declined to comment on whether or not the roles of Billy and Mac would be recast, but Internet rumors indicate that both characters will be back in the near future. Some reports have General Hospital alum and Emmy winner Kimberly McCullough (ex-Robin Scorpio) taking on the role of Mac.