Former Port Charles leading lady Julie Pinson (ex-Eve Lambert) has landed a recurring role on CBS's The Young and the Restless.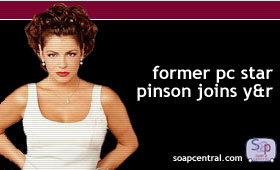 On The Young and the Restless, Pinson will play the enigmatic new character Shiloh. Pinson describes hew new character as "hip, sexy and sassy." Though much of this new character remains a mystery, Shiloh is said to be a music producer and it is rumored that she will be involved with J.T. Hellstrom in some way.

The character is not, as speculated by some popular soap magazines, a veiled attempt to recast Victoria Newman. The role of Victoria was vacated late last year when long-time Y&R star Heather Tom opted to join the cast of ABC's One Life to Live.

Pinson was an original character on the Port Charles canvas, but her character was written out well before the show aired its final episode. Her just-short-of-five-year run with Port Charles lasted from June 1, 1997 through April 1st, 2002.

After her Port Charles gig came to an end, Pinson's name was bandied about as a possible recast for Days of Our Live's Billie Reed. At the time, neither of the show's two previous Billies - Lisa Rinna and Krista Allen - were said to be available or interested in returning to Days of our Lives. Pinson's striking resemblance to the other actresses purportedly made her a contender for the spot. However, DAYS execs and Rinna were eventually able to strike up a deal and Pinson remained off-screen.

Pinson, an admitted Y&R fan, says that she looks forward to meeting all the faces she'd seen on her television every day. Pinson first airs February 16th.