Knots Landing alum Joan Van Ark will join the cast of The Young and the Restless in April. Van Ark is slated to played Gloria Fisher, mother of Kevin Fisher and Michael Baldwin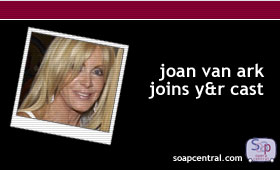 Insider reports had hinted that CBS wanted a "big name" star to tackle the role of Gloria, and the landing if Van Ark would seem to confirm that.
CBS has landed several former primetime soap stars for its shows in recent months. Most recently, The Bold and the Beautiful signed Lorenzo Lamas, formerly of Falcon Crest, to a contract. Two years ago, Guiding Light inked former Dynasty diva Joan Collins to play Alexandra Spaulding. Collins' stay on Guiding Light was short-lived and her additional failed to register even a small blip on the ratings radar.
Van Ark is no stranger to daytime television. In 1970, the actress played Janie Whitney on Days of our Lives. However, Van Ark is best known for her 13-year stint on Knots Landing, where she played Valene Ewing. Van Ark has also recently appeared in several feature films.
Van Ark has already begun taping and will first air on-screen on April 6th.