Former General Hospital star Kin Shriner (ex-Scott Baldwin) will join the cast of The Young and the Restless later this summer. The move puts an end to what turned out to be a pretty intense battle by several shows to snag the actor.

Shriner will play the recurring role of Harrison Bartlett, Arthur's estranged stepson. He will also have dealings with the Chancellor women.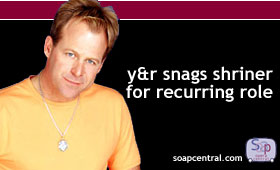 Shriner is no doubt best known for his work on General Hospital and GH-spinoff Port Charles. In 1977, Shriner debuted in General Hospital as Scott Baldwin. With several breaks that sometimes lasted several years, Shriner remained part of the Port Charles landscape until February 2004. Though the door was left open for Shriner to return to General Hospital, it is unclear if the show's writers have any intentions of bringing Scott back to the show any time soon.

As alluded to earlier in this article, Shriner was being courted by several other soaps. While no official comments were available from those shows, Soap Central has learned that CBS's As the World Turns had considered singing the actor to play the role of Hal Munson, vacated by the exit of Emmy winner Benjamin Hendrickson. The role was eventually filled by one-time Hendrickson replacement Randolph Mantooth. (Read more on that story here).

Shriner is slated to tape his first Y&R episode on August 6th, with a debut airdate coming on September 7th.