Former Loving/The City star Randolph Mantooth (ex-Alex Masters, The City/Loving) has landed the recurring role of Hal Munson on As the World Turns. Viewers will remember that Mantooth appeared previously in the role on a temporary basis in 2003.
The role of Hal became vacant last month when it was revealed that Emmy winner Benjamin Hendrickson (Hal Munson) would be leaving the show. Sources say that Hendrickson and show execs were unable to come to terms on a new contract.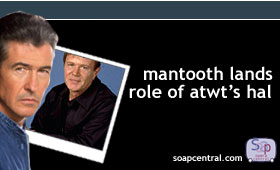 Hendrickson joined As the World Turns in 1985. In 2003, he won his first Emmy trophy for Outstanding Supporting Actor.
Mantooth, as mentioned, is no stranger to Oakdale. The veteran soap actor tackled the role in the spring of 2003 while Hendrickson took a personal leave from the show.
Sources tell Soap Central that As the World Turns had also considered Kin Shriner (ex-Scott Baldwin, General Hospital) for the part. Shriner has since landed a recurring role on The Young and the Restless (Read the complete story). There is no word if ATWT execs contacted James Kiberd (ex-Trevor Dillon, All My Children) to read for the part. Kiberd also subbed for Hendrickson back in 2002.
Hendrickson will continue appearing on As the World Turns through September 28th. Mantooth will make his on-air return on September 30.

RELATED STORYKin Shriner passed over by ATWT for Hal, ends up on Y&R.