In a stunning casting decision, a spokesperson for The Young and the Restless has confirmed that Ashley Bashioum (Mackenzie Browning) has been let go. The decision for Bashioum's departure is related to the character's upcoming storyline.
This is not the first time that Bashioum has exited the show. In February 2002, Bashioum opted to exit the show in order to focus on her schooling. The actress has expressed a desire to become a plastic surgeon and questioned whether or not she wanted to pursue a full-time career in acting. Her pursuit of higher education would ultimately lead to her exit this time around as well.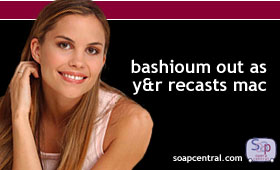 "We decided to move the story in a different direction and Ashley's school schedule made it difficult," Co-Executive Producer/Head Writer John F. Smith said.
Beginning March 28th, daytime newcomer Rachel Kimsey will assume to the role of Mackenzie. Kimsey has appeared as a stunt performer in the movies Taxi and Spiderman 2. Her acting credits include the film Fortune Cookie and an episode of the primetime drama series Medium.
Bashioum first joined The Young and the Restless in February 1999 before exiting in February 2002. She rejoined the show in April 2004. Her final airdate was not released.