Lauralee Bell (Christine Williams) has been taken off contract and placed on recurring status with The Young and the Restless. Fans of the actress shouldn't fear that this is the end of the actress' on-screen appearances. A spokesperson for the show insists that Bell will still be seen on-screen quite often.
Bell recently filmed scenes in the movie Carpool Guy, starring Corbin Bernsen (John Durant, General Hospital). Bell had to take time off from The Young and the Restless to film the scenes, but she was pleasantly surprised when the film schedule only took up about three weekends of her time.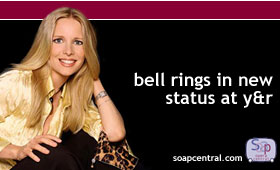 However, in addition to her television and movie career, Bell owns and operates a boutique in Los Angeles called On Sunset. Add into the mix her role as a mother of two children - Christian James, 4, and Samantha Lee, 2 - and there are often not enough hours in Bell's day.
Over the next few months, Y&R's head writer/executive producer Jack Smith says Bell will have a lot of front burner story..
"I've already blocked her into a major story," Smith says. "She is a significant part of something extremely dramatic coming up soon."
Bell, the daughter of Y&R creators William J. Bell and Lee Phillip Bell, joined the cast of The Young and the Restless in 1983.
Will Bell's recurring status have any adverse impact on Y&R?

No, I think viewers have gotten used to not seeing Christine
45%
No, honestly I really don't care for Christine that much.
32%
Yes. I think the show's stories will suffer without Chris.
17%
I think that the show should consider recasting Christine.
3%
I have no opinion about Bell's status with Y&R.
2%
I don't understand what 'recurring status' means.
1%
Other
0%
Poll Posted: April 18, 2005