Is Victoria Rowell (Drucilla Winters) leaving The Young and the Restless? If you listen to the buzz making its way around the Internet, the answer is yes. But don't tell that to Rowell, for she is more than a little guarded about her future with the top rated CBS soap.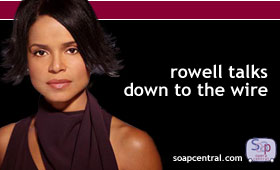 Rowell first joined the cast of The Young and the Restless in March 1990. The actress remained with the show for the next ten years before taking a two-year break. Rowell is now at the end of her three-year contract that began in July 2002. The actress and network execs are reportedly still actively trying to hammer out a new deal.
In addition to her work on The Young and the Restless, Rowell has repeatedly found work in primetime television. She also serves as a spokesperson for foster care through Casey Family Services and established the Rowell Foster Children's Positive Plan in 1990.
A spokesperson for CBS declined to comment on Rowell's contract talks, saying only that Rowell remains a part of the Y&R cast.