Fans of The Young and the Restless can breathe a sigh of relief: Victoria Rowell (Drucilla Winters) has re-signed with the show. The news comes on the heels of word that two other popular African-American actresses are no longer with the show.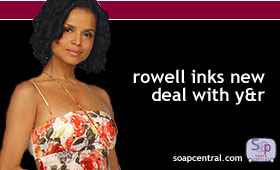 As previously reported by Soap Central, talks between Rowell and the show went down to the wire - and Rowell was unsure that she would be continuing on with the show she's called home since March 1990.
According to a setside source, the deal was sealed only when executive producer and head writer Jack Smith became involved in the process. In a published statement Smith revealed that he was partially unaware of the contract stalemate because he'd been involved in writing material for the show.
The terms of Rowell's new deal were not released.