After just about a year with the show, actress Rachel Kimsey (Mackenzie Browning) has been let go from The Young and the Restless. While declining to comment further, a Y&R spokesperson confirms that Mac will be off the canvas for the immediate future.
Kimsey joined the cast of The Young and the Restless in March 2005, assuming the role for the well-liked Ashley Bashioum. The decision by Y&R to ditch Bashioum came as a surprise to many fans. Bashioum had originated the role of Mackenzie in 1999, but left the show three years later to pursue further education. The actress returned in 2004 to much fanfare, but scheduling issues made it difficult for the show to develop the character of Mackenzie as planned and Bashioum was released from her contract.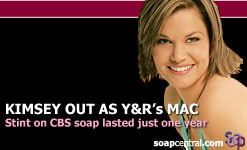 Though she had little acting experience, Kimsey quickly found herself at the forefront of some of the show's storylines. Fans were vocal about their dislike for the recast Mac and many expressed concern that Kimsey would have worked better as a recast for Victoria Newman.
Kimsey's final airdate is April 7th. Though there are no immediate plans to recast Mac, it is widely expected that the role will return to the canvas sometime in the future.
How do you feel about Kimsey being fired from Y&R? We want to hear from you -- and there are many ways you can share your thoughts.