Body bag, straitjacket, handcuffs or a train ride out of town? We don't know how it will happen just yet, but Soap Central has learned that Vincent Irizarry (David Chow) will be exiting The Young and the Restless in the upcoming weeks.
A curt message on Irizarry's official web site, confirmed that "Vincent will be leaving the show."
David Chow appeared on the Y&R canvas in 2006 as part of the Carmen Mesta murder story. His character was originally developed to clash with Drucilla Winters, but those plans fell apart when Victoria Rowell abruptly quit the show and Irizarry was suddenly left without a storyline. Though his role on the CBS soap was only slated to last a short time, Y&R execs were so pleased with Irizarry that they shuffled some storylines in order to keep him around. As a result, Chow was folded into the senate battle between Jack Abbott and Nikki Newman. Eventually, David and Nikki's relationship went from business to something much more romantic.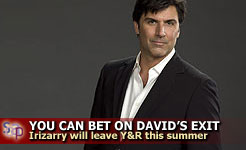 Irizarry was a household name to soap fans long before he joined The Young and the Restless. He appeared on Guiding Light from 1984 to 1986 as Lujack Luvanoczeck. He returned five years later as Lujack's twin brother, Nick McHenry. More recently, he enjoyed a nearly ten-year run as David Hayward on ABC's All My Children.
Already fans are lobbying both of Irizarry's former haunts to consider rehiring the actor.
CBS has yet to issue a statement about Irizarry's exit. As a result, a final airdate has not yet been announced.