The speculation is over: soap veteran Vincent Irizarry will be returning the CBS. However, the Emmy-nominated actor will not be returning to Guiding Light. Instead the actor will head west to The Young and the Restless and try his hand at creating a brand new character.
In September, Soap Central first reported that Irizarry had been cut from the All My Children cast due to "financial and storyline" and storyline reasons. Almost immediately fans began to wonder if Irizarry would head crosstown to rejoin the cast of Guiding Light, where he had previously portrayed Nick McHenry Spaulding and Brandon "Lujack" Luvanoczeck.
Though sources confirmed that Irizarry had, in fact, talked with GL execs about returning to the show, Guiding Light head writer David Kreizman issued a statement that there were "no plans" to have the actor return to the show.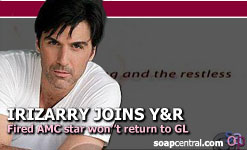 Irizarry later broke his silence on his All My Children exit, stating that he was "deeply saddened" to have been fired by the ABC soap. The actor indicated that he wanted to wait until after he had finished taping his final scenes before making comment on his release.
Now Irizarry is breaking his silence again - but this time about his new Y&R gig.
"I've been sitting on this information for over a week now," Irizarry said in a statement. "[B]ut I was expressly given instructions from the show's PR department not to make any formal announcements until they deemed the timing to be right."
Irizarry will tackle the role of David Chow, a character who is connected to the recently-murdered Carmen Mesta. Irizarry tapes his first scenes for The Young and the Restless on November 21st. He is expected to first air on January 9, 2007.