Clementine Ford (Mackenzie Browning) is a straight shooter.
As the news of her casting as Y&R's latest Mackenzie Browning spread, so did juicy details about her personal life. She's the daughter of famous actress Cybill Shepherd, her most prominent acting gig to date was a role on the Showtime lesbian breakout soap, The L Word, and she just came out of the closet herself via a notorious interview in Diva magazine. Wait, she retracted it. Or did she?
That's the part Ford set straight.
"I am gay," Ford recently told Michael Fairman for Advocate.com. "I just wanted there not to be this big emphasis on it."
Meaning to only establish herself as a supporter of gay rights in general, and get some press for her gig at the time, The L Word, the firestorm set off by twisted quotes in the March 2009 Diva interview caught Ford off-guard.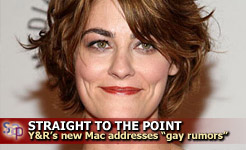 When she told Diva that she didn't want to label herself, but Proposition 8 (California's gay marriage issue) was important to her, she meant to comment on politics, not her personal life.
"The first thing that really upset me was that the cover line said 'Clementine Ford Comes Out' which, clearly if you read the article, I did not come out," Ford told TV Guide's Michael Logan. She was further upset that the article misrepresented old quotes from a podcast interview on AfterEllen.com, using Ford's jokes about shooting a scene on The L Word to imply a real-life relationship between Ford and one of her co-stars.
Now that the is-she-or-isn't-she thing is out of the way, Ford is happy to move on to discussing her new role as Mackenzie Browning.
"I've known Greg Rikaart (Kevin Fisher) for years and have a sneaking suspicion he had something to do with [me landing the role of Y&R]," Ford says. "He's been so helpful to me." Rikaart told her that the best thing about soaps is that you can mess up one day, and start over again the next. That's good, Ford says, because "...I think I may have done some really bad acting the first week just trying to keep up. But I'm getting the swing of it now."
Mac reappears in Genoa City just as her first love, Billy Abbott (Billy Miller) gets married to his "baby mama," and the mother of all DNA reveals sends shock waves throughout Genoa City. The news that Kay and Jill are not mother and daughter also means that Mac and Billy are not cousins, and would be free to marry - except that he just married someone else.
What will Mac do? Ford answers the question in character.
"Do I run away? Do I try? Do I just try to exist in this world where this guy is inches away, but a hundred light-years away?"
Wait and see. Rumor has it that Ford screen tested with Miller and Chris Engen (Adam Wilson). Meanwhile, Ford has one parting joke to make -- or is it?
"Two teases come to mind," Ford quipped to Fairman. "Billy or Chloe, which one does she choose? Will Mac stay in Genoa City, or does she go? Stay tuned..."