The Young and the Restless has confirmed that it is recasting the role of Mackenzie Browning. More than that, the top-rated CBS soap has announced that it has found an actress to take over the role.
As first reported by TVGuide.com, Clementine Ford has landed the role of Katherine Chancellor's granddaughter. Though a newcomer to daytime television, Ford is certainly no stranger to show business. Ford recently appeared as Molly Kroll on the Showtime series, The L Word. The actress has also made guest appearances on House and Cybill, which starred her real-life mother, Cybill Shepherd.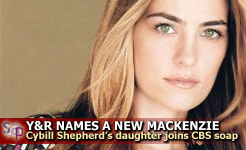 In recent weeks, several other actresses have been linked to the role. In February, it had been reported that Amanda Aardsma had landed the contract role.
When she makes her debut next month, Ford will become the fifth actress to play the role of Mac. Ashley Bashioum originated the role in February 1999. Upon leaving the show in 2002, Bashioum was replaced by newcomer Kelly Kruger. Kruger remained with the show for a little over a year before Mackenzie was written out of the show. Bashioum reprised her role in April 2004, but exited in March 2005 to focus on her education. Rachel Kimsey took over for Bashioum and held the role until May 2006. Nicole Taranti appeared briefly as Mac in 2001 when Bashioum took a medical leave.
A spokesperson for The Young and the Restless has placed Ford's debut on April 1.