On January 22, Tracey E. Bregman (Lauren Fenmore) marked a milestone -- the 27th anniversary of her first appearance as The Young and the Restless' Lauren Fenmore.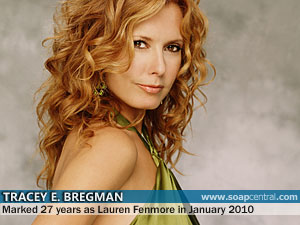 "After 27 years, I still wake up grateful every day for my job and [Y&R co-creater] Bill Bell, [former Y&R executive producer] Wes Kenney and [former Y&R writer] Sally Sussman," she praises. "To be able to do what I love with such extraordinary people, whom I love, is not something I take lightly. My heart and love goes out to my entire Y&R family past and present."
The bulk of those 27 years have been spent in Y&R's fictional Genoa City. However, for four years in the late 1990s, Bregman took her alter ego to The Bold and the Beautiful. She eventually returned to The Young and the Restless in 2001. She's made a handful of special guest appearances on The Bold and the Beautiful as part of crossover storylines involving the two CBS shows.
Fans may be surprised to know that while Bregman is front and center on The Young and the Restless, the actress is not a contract player -- and she hasn't been since rejoining the show 2001. Her status seemingly affirms claims that being "demoted" to recurring status doesn't necessarily mean an end to on-screen face time -- or Emmy nominations. Bregman, who won a Daytime Emmy in 1985 as Outstanding Ingénue, received two Emmy nods in the Supporting Actress category in 2006 and 2008.
In addition to her work on Y&R and B&B, Bregman appeared for two years as Donna Temple Craig on NBC's Days of our Lives.