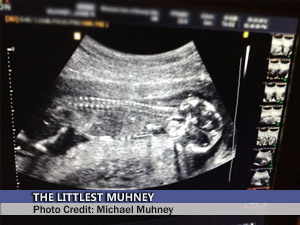 The Young and the Restless' Michael Muhney (Adam Newman) took to Twitter to announce that he and wife Jaime will soon be welcoming a new addition to the family.
"ITSaBOY!! Hello world! I'm the newest Muhney," Muhney posted with an accompanying ultrasound image. "I get to meet my big bro (Dylan) & my big sis (Ella) on November 10th!"
LISTEN TO MICHAEL MUHNEY'S REVEALING INTERVIEW ON SOAP CENTRAL LIVE (WITH A SURPRISE Y&R GUEST)
The Muhneys' son and daughter are ten and four, respectively.
Muhney assumed the role of Adam Newman in July 2009 when the previous actor left when he became unhappy with the direction of the characer.