The cast and crew of The Young and the Restless is reeling over the walkout of yet another of its stars. Chris Engen (Adam Wilson) made the sudden decision to quit the show in protest over an upcoming storyline... a storyline that involves a same-sex kiss.
Engen is said to have picked up the latest show script and learned through reviewing his lines that his character was going to be getting intimate with attorney Rafe Torres (Yani Gellman). Months of frustration over the direction of his storyline and lack of airtime exploded in a confrontation between Engen and the show's production team. According to sources, Engen has long felt that the writing for Adam was going in the wrong direction. For Gellman's decidedly different take on the storyline, click here.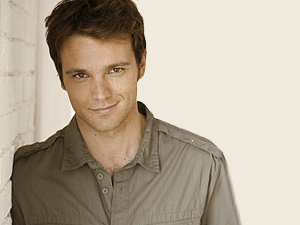 Setside sources told TVGuide Canada, "Chris hasn't been happy for a while. He doesn't like the dark direction his character is taking. He's called in sick a lot recently and has been taking a slew of meetings with Y&R's [executives] to discuss his future on the show."
Although Engen is well-known for keeping his personal life separate from his career, some are wondering if his personal beliefs may conflict with his character's storyline. The 29-year-old Engen is a graduate of Bishop Montgomery High School, a Catholic school in his hometown of Torrance, California. The school's mission statement reads, in part, "We serve the needs of the Church and the larger community by providing intellectually mature persons who have learned to integrate world knowledge with Catholic beliefs and values."
"Chris is still under contract," sources continue, and the show is mulling the pros and cons of taking legal action against the actor.
Engen has since gone on to make a statement regarding the situation, the only such statement he says he'll make. To read it, click here.
Engen made his first on-screen appearance on February 12, 2008. He will last air in June 24. Meanwhile, TVGuide.com reports that Michael Muhney, of Veronica Mars fame, will take over the role of Adam Wilson.
Muhney is apparently very excited about his new role. In a posting on his official web site, Muhney remarked, "My first day on the set was crazy and fun and quite a wild ride. I had to hit the ground running at full speed. I think I need a new pair of shoes, but in these economic times I'll just have my shoes re-soled. I'm honored to be a part of such an iconic piece of work and I can't wait to sink my teeth into this thing."
Muhney's first air date is Thursday, June 25.