Chris Engen (Adam Wilson) has released a statement regarding his exit from The Young and the Restless. In the statement, released on the actor's official MySpace page, Engen refutes claims that he bolted from television's top-rated soap due to religious reasons or homophobia.
"This is the first time in my life that I address an audience so vast and varied," Engen said in his statement. "There are a number of heated topics that have become entwined with my recent decision to quit my job, and I feel there are a number of truths that deserve to be stated, a number of untruths that deserve to be rectified, and a few of my own ideas that, by way of circumstance, I am compelled to inject into the debate. This is the only statement I intend to make regarding this subject. I would like first to apologize, as I feel I owe a great many of you at least that. I know that a choice like this appears weak and impulsive. Honestly, it was the last thing I ever thought I'd do -- the absolute LAST thing I ever wanted."
Last week, it was reported that Engen and The Young and the Restless had parted ways. Initial insider reports stated that Engen walked off the set because he'd picked up a copy of his latest script and learned that his supposedly heterosexual character would be sharing a kiss with another male character. Immediately, the same-sex kiss was blamed as the reason for Engen's walkout. A short time later, The Young and the Restless announced that it had recast the role of Adam Wilson, adding fuel to an already raging fire. Many also questioned why Engen did not immediately release a statement about what had transpired.
"I know a great many of you have endured far worse than what you perceive to have been my circumstance, but I do not believe that just because you have suffered a particular injustice, so too must everyone else in order to understand that injustice," Engen continued. "I would [...] like to apologize to those of you who feel slighted by this choice, as I have been branded a 'homophobe' by several members of the press. This is, of course, absurd and many of my dearest friends are homosexuals who would be more than happy to speak on my behalf. My decision had nothing to do with religion, or anything I learned at Bishop Montgomery High School. [...] I do not ascribe to any one religious ideology but do value the truth that exists in them all. I think the unfortunate assumption that has been made is that Catholics are intolerant of homosexuals on the basis of their Catholicism. Intolerance of anything is a product of one's underlying belief system as an experience of limitation. [...] We are what we are, but we are also NOT what we are not. Intolerance is a natural reaction that, I believe, we must understand in order to defeat."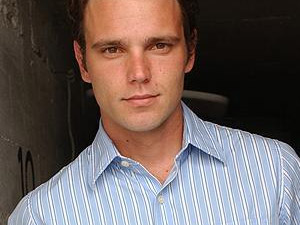 Engen goes on to say that his decision to leave The Young and the Restless was brought on more by his unhappiness with his character's story as a whole than any individual part of that story.
"True -- I was not comfortable with many of the challenges they presented before me, but I put my head down and did my job. The fact that I had an opportunity as ostensibly attractive and lucrative as this, particularly in difficult economic times and with so many talented actors and industry professionals out of work was, of course, more than reason enough to be grateful," the actor commented. "I considered it part of the challenge and within my job description to do the best with whatever storyline was being written for me, as I was very fortunate to be getting a storyline in the first place. I understand that the writers have a very difficult task. They accomplish more in a week than what other shows do in over a month. I never stormed off the set, nor have I stormed off any set in my 18 years of struggle as an artist. I felt generally unhappy about my contribution to the show, and had greater and greater difficulty making any sense of the challenges they were asking me to face."
Engen goes on to make a statement about the apparent inaccessibility of the show's executive producer, Maria Arena Bell, to the cast of actors. It's a claim echoed previously by another exiting castmember, Nia Peeples (ex-Karen Taylor).
"I was allowed ONE meeting with Maria Bell, and I called in sick ONCE in my 16 months on the show," Engen asserted. "In the end, I didn't feel that decisions were being made in my best interests, personally or professionally."
The speed with which The Young and the Restless recast the role of Adam caught many by surprise. Some had wondered if the show had already been quietly planning to recast the role even before Engen reportedly walked off. Now, Engen clarifies exactly what happened: he asked to be released from his contract long before his much-hyped walk out.
"My visage and my craft were being utilized to tell a story that I wasn't inspired to tell. I have a great deal of respect for the show in general and all those hard-working people who make it possible, and it is out of respect for them and a sense of duty toward them that I asked to be removed from my duties," Engen explained. "I know this doesn't conform to contract stipulations and it is regrettable that my personal feelings came into conflict with that precedent, although I don't think that would have ever been the case if what was being requested of me was not unprecedented. Ultimately, the producers were very understanding and amenable and I, in fact, worked until they told me they didn't need me anymore."
A spokesperson for The Young and the Restless did not immediately return requests for a statement.
To read Engen's complete statement, please click here.