The Young and the Restless fans were given quite a shock when blast-from-the-past character Alice Johnson popped back up in Genoa City this summer. There was no indication that Cassie's former adoptive mother was headed to the canvas, so jaws dropped when she suddenly appeared -- and dropped even more when it became clear she is a big part of the horrifying sex trafficking ring plaguing the fictional soap town. The payoff was obviously worth it, but Alice's portrayer, Tamara Clatterbuck, tells Soap Central that pulling off such a surprise return was anything but easy. And playing her controversial character in such a delicate storyline is pretty difficult, as well.
soapcentral.com: Everyone was super surprised when you showed up on-screen at the end of August. How in the heck did you and the show keep your return a secret?
Tamara Clatterbuck: Oh, it was crazy, crazy tough. First of all, I told absolutely nobody. Not even Sharon [Case, Sharon Newman]. No one was allowed to know. They had my name in the scripts as Lisa, not even Alice, so that nobody would know... I also [wore a disguise]. I tied my hair in a bun and put on an ugly baseball hat that wasn't even a cool baseball hat, put on my black sunglasses, kept my head down and just walked in. [Laughs] But we were lucky; I know a lot of people on The Bold and the Beautiful -- Jennifer Gareis [Donna Logan] is one of my best friends, and Katherine Kelly Lang [Brooke Logan], I'm friends with her. But B&B was dark that week on their hiatus, so I was able sneak in and not run into anyone in the halls. And they'd put me in rooms [close to the stage] so I could just walk directly on stage. I went the back way up to hair and makeup, too. We snuck around a lot! It was Jess Walton's [Jill Abbott] anniversary while I was filming, and there was all this press there, and we were up and down and all around [to not be seen]. It was a lot of work! [Laughs] But it was great, because the fans were in a state of shock.
soapcentral.com: I'll bet some of your costars were, as well, since you snuck around so expertly!
Clatterbuck: Yes, and when it came right down to the final wire, Sharon, who's my bestie, was excited to the moon that I was coming back, and she was so excited to work with her best friend. I mean, who gets that in life?! It's so much fun being there and hanging out with her. And working together was so great. But nobody knew. So like when Christian [LeBlanc, Michael Baldwin] came to set and popped into makeup, he saw me sitting there and was like, "What?! WHAT?!" He did a double take. But it was like that with everyone; it was double takes across the board, everywhere. But yeah, it was just such a happy moment and so much fun to be back and be a part of it again.
soapcentral.com: When you first got the call from Y&R, were you immediately on board to resume the role, or did the subject matter give you a bit of pause? It's not every day that you're asked to come be a part of a story in which the audience thinks you're part of a sex trafficking ring.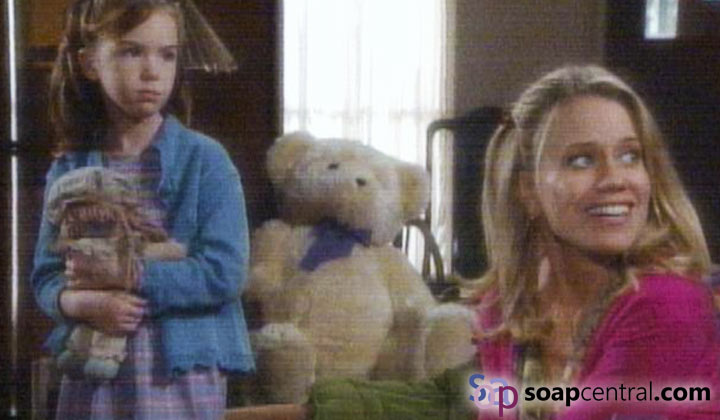 Clatterbuck: Well, I'll tell you something: I'm an actor, this is a story, this is the show. And I think it's great that they're touching on this, because it is really relevant, and it does happen. The truth is, it's really hard to play somebody that isn't always likable. I mean, think back to the original Alice. People hated me. She was trying to get Cassie [Camryn Grimes] back from Sharon, and I was SO hated, I can't even tell you. When I first worked with Camryn back in the original Alice days, she ran away from me on set, and I had to tell her, "I'm not really bad!" And so we had a little talk, and then we had such amazing times together. So consequently, it's not always fun to be a character or be in a story where it is controversial or what have you, but it is reality, and it does happen. So I'm just happy to be a part of it and grateful to be a part of it, and I think it's important that it's told, too. So I had no problem. It's great when people love you, but I think the good thing about Alice this time around is you can see [that she has a heart]. And the audience knows she did do the right thing -- she did give Cassie back all those years ago, so you know that there is that good in there.
soapcentral.com: You think there's good in her now, even though she's helping gather girls for this horrifying organization?
Clatterbuck: Nobody is just one sided, and she's such a complex character. I think she justifies everything that she does because she has to survive. There are a billion people out there who aren't given opportunities, who don't come from money, that don't have chances to go to school, to get an education, to further themselves, and she's one of those characters that is just trying to survive. And I think, too, that she feels in her heart that she is taking care of these girls, because where would they be if they weren't with her? They would be on the streets. And they're much safer with her, where she can at least make sure they're fed and they have a place to sleep and they're cared for. So I think that's the way she looks at it, and I doubt her life was easy, either. I mean, she probably had her fair share of struggling and trying to make ends meet, and who knows what she had to do to survive at times, to take care of herself and feed herself and have a roof over her head. So I think she understands these girls, and in her mind, she's giving them better than what they would have.
soapcentral.com: I guess, in order to play the character well, you have to figure our her justification and find the good somewhere -- even if it's miniscule.
Clatterbuck: Exactly. And even with the original stuff with Cassie, she wanted that little girl back, but she messed up. She couldn't handle it. She adopted this child because she wanted her and loved her, and then when it got down to it, it was actually [really difficult]. I'm a mother of a fourteen-year-old, so I know how hard it is to be a mother in real life! So I think what happens is you don't always realize what you're walking into, and so she wanted Cassie back when she felt she was getting it together, and she had her boyfriend way back in the original days, and she thought that maybe she could take care of Cassie then and have her back. So yeah, you have to see both sides of the character and find the points of why she's doing what she does and what she wants and who she is and her background and her history and all that good stuff.
soapcentral.com: Did the show's new executive producer, Mal Young, give you any help with figuring out which direction to take Alice in with this storyline?
Clatterbuck: Yes, absolutely. We talked about how she feels about these girls, how she cares about them. Deep down inside, she's a good person. And she has a heart and cares. And once again, she justifies it. But I can't really say anything more without giving away what happens.
soapcentral.com: This is your first time working with Mal Young, so what has that been like for you?
Clatterbuck: I love him! He's amazing. I was asking questions to get a handle on where we're going with her, where she's at this time around, and he was amazing. He came and sat down with me and spoke to me about the whole sex trafficking story, his knowledge [about the subject], and about Alice and where she's at and what she wants and her whole purpose. And he grounded me, which is so fantastic to have from a producer. It's great. He's always there, and he's always taking time to talk to me and give feedback, whether it's on set, or if I would run into him in the hallway. He was always taking that moment to communicate. And gosh, what more can you ask for? It's amazing. He's the best. He gave me so much guidance.
soapcentral.com: How was the process of jumping back in the saddle of Alice? Was it pretty easy to get back into the swing of things after all those years?
Clatterbuck: I have such huge respect for daytime actors. It's fast. It's a lot of dialogue. And you have to be prepared. When I do guest-starring roles, it's ten days to shoot one episode. So consequently, you have a lot of time. And a lot of times, you have different scenes each day. But this is an episode a day, and it can be fast, so getting back in the saddle at that speed was rough. But Sharon said, "Tamara, you're going to be fine." And it was fine. But there was that initial, "Ugh, I know it's so fast." But getting back into Alice, I mean, it's like I played her for so many years, and it's kind of her but all grown up. She's still trudging through and trying to find a way to survive and make it in the world, but she still has that core being. Some of the episodes, too. I'm sure you remember Ernestine Mercer, who played Alice's mother on the show. That was the other reason the fans hated me, because I would walk around going, "Ma, ma," because I called her ma, and that whole relationship with her and how awful that relationship was with her, because who knows what Alice's childhood was like. But, yeah, to just find her again was actually pretty easy, because she's still that same core person. It's just fifteen years later, and she's trying to survive. There were some comments about the relationships, when she first saw Sharon in the beginning, she said, "Yeah, I've given up on guys." She has that whole speech where she talked about wasting a lot of time on men who don't give a damn about you. So I mean, I believe she's had some real rough times! So I don't think she's had an easy life, Alice. So yeah, to find her again, she's still the same core being, if that makes sense. Like all of us as we grow up, we have all that history of what we've been through in life, which makes you smarter, savvier, sometimes more vulnerable and tougher, and what have you, all those wonderful emotional elements as we get older.
soapcentral.com: Speaking of Sharon, a lot of fans who have watched for many years love the return of Alice, simply because it reminds them of the days when Nick and Sharon were a team. Her presence is sort of nostalgia, which always works with soap operas.
Clatterbuck: Exactly. They call the couple #Shick, and I see a lot of that, definitely. The fans like that, they like the old days. And of course Nick and Sharon, they have children. And you're always with your ex if you have kids, right? And they went through so much together with Cassie. When you go through all of that, that's an intense bond. And it's so many years, so I do think the #Shick fans absolutely love it. They have to be together through this challenging time -- they have to be there for each other -- and fans of that relationship are loving that, the camaraderie between Nick and Sharon and that they're supportive of each other, so to speak.
soapcentral.com: The nostalgia factor is great. But you're also working with some new actors on the canvas, like Morgan Obenreder (Crystal) and Ryan Ashton (Zack). So what's it like to work with these new, young, talented performers?
Clatterbuck: Ryan is great. And Morgan, too. I mean, I'm telling you, they're like, "Do you want to run the lines? Yes, let's run it." Morgan was out on set in the "hooker house," they call it, and so I came out there and just sat down on the couch and we ran the lines together on the couch on our little set, and the same with Ryan. It's another reason I have such gratitude to be a part of the show, because it's completely ego-less. Everybody. Even being in hair and makeup and meeting Missy [Claire Egan, Chelsea Newman] and other people I had never met before, just saying hi, and seeing Eileen Davidson [Ashley Abbott], who was like, "Tamara! What are you doing this time around?" And Melody Thomas Scott [Nikki Newman]. We were trying to sneak around so nobody would find out about my return, and we were doing some pictures, and Mel was sitting outside, and she was studying her lines, sitting outside at a table, and then she suddenly turns around, because I was talking to [one of our publicists] and the photographer, and she looks at me and she goes, "What?! What are you doing here?" Because my voice is obviously so distinct. That's another thing: some people love it, some people hate it. But tough luck, because it's my voice. I'm not going to change it. So anyway, it was my voice that she recognized. And she screamed and came over and was like, "Wait, what did Scott and I used to call you?" And I was like, "Dutch." Because Clatterbuck is a Dutch/German name. And my nickname was Dutch, and that's what [her husband and former Y&R producer] Ed Scott used to call me. And, oh, my gosh, it was so great seeing her. Being on that show years ago, it was family to me. You do a soap, and you're there for a long time, and they become your family. It's truly like your family. It's hard to explain, but really, from hair and makeup, to the directors, to the camera guys, just everyone. It's a family feeling because you're there all the time. And I've got to tell you, I still miss not seeing Jeanne Cooper [Katherine Chancellor]. God, I will never forget her coming up to me way back in 1999 and telling me how wonderful I was and just being such an absolute heart. But everyone that I did see, it was just absolute love and excitement coming from them. It was so warm and so inviting. Never once did I feel like a fish out of water, and never once did I feel not welcomed, even by the new people, which was your original question. From new people to seeing people I've known over the years from when I first was on the show, it was just incredible.
soapcentral.com: Overall, it seems almost everyone is very happy to have you back on-screen. As you've said, you've gotten a lot of positive comments. But do you also get some backlash or hurtful comments from viewers because you're playing a controversial or unloved role?
Article continues below advertisement
Clatterbuck: Some people love it, and some people don't love it, and some people are saying, "Look at this horrible Alice and what she's doing!" and some write stuff like, "You're so evil! What are you doing to these girls?!" I think on some of these episodes, when I'm counseling Crystal and they're sending Crystal away, you can see that I care about her, and I don't want anything to happen to her. And even the conversation Sharon has with Alice after, about why I adopted Cassie, because I wanted somebody to love and to feel love, I think the audience is grasping that. But if social media had been around in the original Cassie/Alice storyline, I would have been viciously hated! But I think people see the two sides. I was in Ralph's yesterday, and the guy bagging my groceries was like, "I'm a huge fan of the show. I've been watching you. And I can tell you have a heart!" And I was like, "Yay!" So it wasn't like in the old days, the Cassie old days. Then, it would have been, "You're horrible, you're awful, you're despicable!" I think people are seeing that she's has changed. And maybe because they knew the old Alice character who gave Cassie back. So maybe it was that knowledge from the fans from day one. And you know, the truth is, too, a lot of the new people that are watching the show aren't completely familiar with the Alice storyline and who Alice was back in the day, back in 1998, 1999, and 2000. They aren't familiar, so they are saying, "Who is this Alice woman? What is going on here?" And then I think it's harder for them to have compassion, because they weren't familiar with that whole dramatic moment when I gave Cassie back in that courtroom. So it's kind of conflicted, and it's kind of a mix, because half the fans are like, "Wait a minute." It's hard for them to feel compassion for me. But the other ones do, because they know deeply who I am from 1999. So it's kind of a mix of feelings from the fans when it comes to how they feel about the story and about me. But for the most part, the response has been great. And they say it's exciting when I'm there, and they like seeing the scenes, and there are tons of comments about my work, which is great.
soapcentral.com: Did you ever think you'd be back? Is it something you'd thought about over the years?
Clatterbuck: I was always hoping one day I'd return. And in the interim, I've done some guest starring roles on shows, and I did a recurring role on Criminal Minds. I also just finished this movie, which I'm really excited about. It opens on September 22 in theaters, and it's called Last Rampage with Robert Patrick and Heather Graham and John Heard and Bruce Davison. It's based on a true story about Gary Tison and Randy Greenwalt, who escaped from Arizona State Prison. It's wonderful, so watch for it on September 22. It's out in theaters, limited in places like Chicago, New York, and L.A. [Editors note: See the trailer below] So I'm still working intermittently, which is good. So I was definitely surprised but so happy to be asked to come back to Y&R. I can't even tell you. I mean, I was just like, "Oh my gosh, pop the champagne right now!" It was really exciting. And we did a good job hiding it. People were shocked. They were like, "What?! Wait a minute. Whoa. WHAT?"
soapcentral.com: It does seem that even though Alice is part of this controversial storyline, you and the writers are trying to show that she does indeed have a heart. So does that mean she can perhaps somehow be redeemed and become a more permanent part of the canvas?
Clatterbuck: Absolutely! [Laughs] I think there's a huge place for Alice, definitely. There is so much history, and it's interesting: As different as they are, Sharon and Alice, I see a connection there. I see a friendship there. They're people from opposite sides of the tracks, but not necessarily, because Sharon has had her hardships, too. So definitely, I think there's a place for her. And like in real life, there are all these interesting characters walking throughout the world, and it would be great if there was an opportunity for her to completely be a part of Genoa City, of that world. That would be great.
What do you think about Clatterbuck's Y&R return? Do you believe there's a good side of Alice? Would you like to see the character stick around in Genoa City for additional storylines, or are you looking forward to Alice being long gone? We want to hear from you -- so drop your comments in the Comments section below, tweet about it on Twitter, share it on Facebook, or chat about it on our Message Boards.