Alexander Field Bladeson
Deceased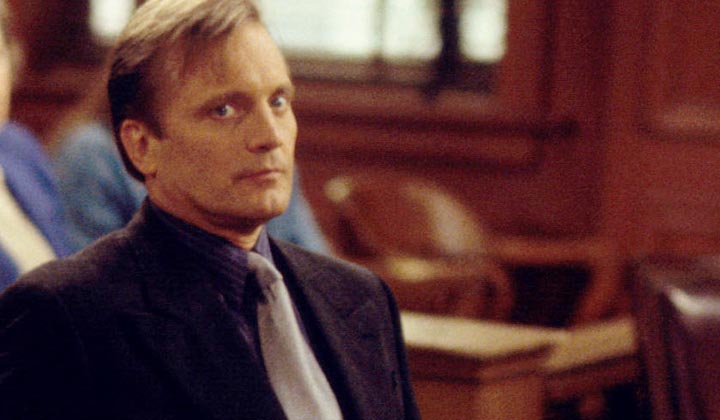 Michael Tylo
1993 to 1995
Died in 1995
Blade
Jabot Cosmetics photographer at time of death
Married to Ashley Abbott at time of death [Married: 1994]
Unknown
Richard 'Rick' Bladeson (twin brother)
Others unknown
None
Fought with his brother Rick, who fell off a pier, and left him for dead; later found that Rick did not die
A mystery man arrived in Genoa City calling himself only Blade, who went to work for Jabot Cosmetics as their photographer. The handsome Blade caught the eye of Ashley Abbott. They dated for a while, but Blade would not open up to her about his past beyond telling her that Blade was a stage name and he was escaping his past, and mentioning a brother. Love blossomed, and Ashley and Blade married and became Mr. and Mrs. Alex Bladeson. They took up residence at the Abbott mansion awaiting the building of their new home.
Some time later, an old lover from Blade's mysterious past came to Genoa City calling herself Mari Jo Mason. As head of the Jabot art department, she was working with Blade's new wife, Ashley. Mari Jo was still in love with Blade, but Blade would never forgive her for sleeping with his "evil twin" brother, Rick. She assured him that their past would remain a secret, but, as the only witness to Rick's drowning, began blackmailing him because Blade ignored Rick's cries for help.
Blade's twin Rick shocked everyone when he showed up in Genoa City, bent on revenge for Blade leaving him to die. Rick had fallen off a pier but did not drown as everyone thought. Mari Jo again became involved with Rick, but Ashley seeing them together and knowing nothing of a twin, assumed she and Blade were having an affair. Ashley confronted Blade with the facts, which he could not dispute without uncovering his evil twin.
Mari Jo soon fell in love with Ashley's brother, Jack Abbott, asked him to marry her, and they became engaged. But Jack broke it off after he found out about her involvement with his sister's husband, Blade, and Jack was reunited with his Vietnam sweetheart, Luan Volien. Mari Jo did her best to break them up, following them on their trip to St. Thomas. Coincidentally, Blade and Ashley were also there in an attempt to rekindle their marriage, and had been followed by Brad Carlton who had been rebuffed by Ashley in favor of Blade. Rick captured Blade and imprisoned him, while Rick took Blade's life as Ashley's husband. Ashley was thoroughly impressed with the change in Blade, both as a husband who now wanted children and as a lover. Mari Jo realized that Blade was really Rick. Not long afterward, Blade escaped, confronted Rick, forced him to leave town, and resumed his marriage to Ashley, who was very disappointed that he had reverted to his old self. Several more role reversals occurred, ending up with the real Blade being killed when his car was hit by a train. Rick revealed himself to Ashley, but Ashley threw him out, and went to Paris to escape the grief and deception. Mari Jo and Jill Abbott drove Rick out of town.

Post a Comment

Share on Facebook

Tweet this

Submit Feedback