Mamie Johnson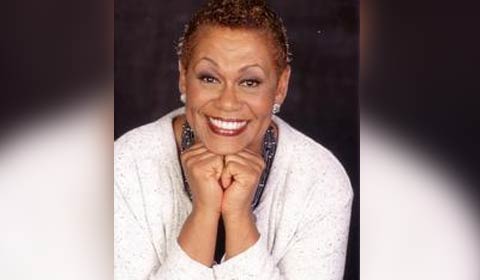 Margueritte Ray
1980 to 1989
Veronica Redd Forrest
"Aunt Mamie" by everyone even unrelated
Unemployed and independently wealthy
Former Abbott housekeeper and nanny
Unknown
Single
Unknown
Parents never mentioned
Lillie Belle Barber (sister)
Olivia Barber (niece)
Drucilla Barber (niece) (presumed dead)
Lily Winters (grand-niece)
Nate Hastings (grand-nephew)
Matilda "Mattie" Ashby (great grand-niece)
Charlie Ashby (great grand-nephew)
None
John Abbott (deceased)
Trent Jordan
None
Wealthy Jabot Cosmetics Founder, John Abbott, was left alone to raise his three adolescent children when his wife Dina left him. The Abbott children were mostly raised by long-time family maid, Mamie Johnson, whom they thought of as their mother.
Mamie was at John's side after his heart attack, which was caused by Jack almost selling Jabot out from under him. When John married Jill Foster, Mamie disapproved. She kept a sharp eye on Jill, was suspicious when Jill mysteriously "fell" from a ladder and miscarried, and kept John up to date on her. Mamie nursed John back to health from the stroke caused when John discovered Jill had a one-night stand with his son, Jack, so the baby could have been his. Then she stood by his side during his divorce and the crushing settlement which gave Jill one-fourth of Jabot Cosmetics, a seat on the board of directors, and a cushy executive position with Jabot at $150,000 a year.
Mamie's niece, Drucilla, a teen runaway who had been missing for years, showed up desperately looking for her aunt at the Abbotts' door. Mamie talked John into letting Dru live with her in the servants' quarters. John took a liking to Dru, and got her a job in the Jabot mailroom. Mamie was there as a sounding board and problem solver for Dru over the years, and Dru ended up a successful fashion model. The same was true for niece Olivia who was a doctor at Genoa City Memorial, and Olivia's son Nate and Dru's daughter Lily.
Mamie approved when John fell in love and married Jessica Blair. Even though Jessica had AIDS, she was a wonderful woman and Mamie thought she was good for John. Mamie once again stood by John's side when Jessica died too soon afterward. Another heart attack nearly killed John when Jabot was taken over by Newman, thanks to Jack's taking the company public.
Years later, Mamie and John's children were equally appalled to find that Jill wormed her way back into John's heart, and they remarried. Jill wanted to have a baby, though John felt he was too old. But Jill managed to get pregnant and gave birth to William "Billy" Abbott, whom John eventually accepted and came to love. Jill's affair with Jed Sanders due to John's impotence caused John to file for their second divorce. It resulted in a bitter custody battle over Billy, which was interrupted by another stroke for John. Mamie nursed him back to health and admitted to John that she was in love with him. John returned her feelings, but later lapsed into a coma. Jill, who was making an 11th hour effort to get back in John's good graces, overheard them, fired Mamie, and tried to pay her to leave town. When John came to, he devastated Mamie by agreeing to remain married to Jill for Billy's sake. The broken-hearted Mamie accepted Jill's million dollars and left on a world cruise with debonair Chancellor executive Trent Jordan. Of course, it wasn't long before John divorced the ever-intolerable Jill. John got custody of Billy and, unable to bear Jabot being owned by Newman, moved to New York City.
Years later, John returned to Genoa City with his then 16-year-old son, Billy, to head up the again family-owned Jabot in its fight for survival. Not long after John returned, he happily welcomed Mamie at his front door. Mamie looked great! Being rich had been very good for her. She explained that her liaison with Brent didn't work out, but she wanted to help Jabot financially to get them out of debt. John and Jack refused her money, but Mamie remained living with them as a guest for a long while after. She helped out when needed, taking care of Jack's toddler son, Kyle, and Ashley's daughter, Abby, and sometimes cooking a special family dinner, but sitting down to the table as part of the family instead of a being a servant.
When last heard from, Mamie was not able to attend John Abbott's funeral nor Drucilla's memorial service.

Post a Comment

Share on Facebook

Tweet this

Submit Feedback