Miguel Rodriguez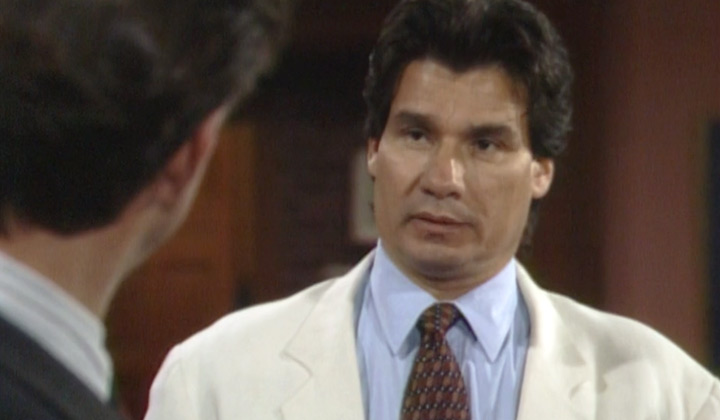 None
Former Newman manservant, nanny, chef and chauffeur rolled into one
Unknown
Single
Unknown
An unnamed aunt
Other relatives unknown
Unknown
Veronica Martin (a.k.a. Sarah Lindsey) (were engaged at her death)
None
Miguel has been the Newman's manservant for nearly 30 years. He originally worked for Victor when taking care of his clothes and the household at the ranch were his only duties. Since then he has taken on the entire Newman family's needs and problems. A true kitchen god, Miguel whips up elegant dinners, parties at a moment's notice, barbecues for large groups, and birthday parties for children -- all complete with decorations. Always at their beck and call, Miguel also takes care of, entertains, and chauffeurs the children, is confidant to Newman teenagers, and always knows what's going on with everyone in the family yet is discrete. He left the ranch for only a few years after the Newman children were grown to work for Victor at his penthouse in Newman towers after Victor's divorce from Nikki and during Victor's marriage to Ashley Abbott. He also is occasionally loaned out for other Genoa City parties. He met the Chancellor maid Esther Valentine at one of these, and they dated briefly.
Miguel finally got a real storyline in 1997/98. Miguel was working at the ranch for Nikki who was now married to Gynecologist Josh Landers. A new housekeeper was hired, a strange shy woman named Sarah. But Sarah was actually Josh's presumed-dead wife Veronica. Escaped from a mental hospital and unrecognizable after plastic surgery, wearing a wig and maid uniform, she was determined to get Josh back. Some time later, Miguel met the attractive Veronica at his favorite Mexican restaurant. After many such meetings he fell in love with her.
Josh thought Sarah was a great maid, somehow anticipating his every need. Then she quit taking her mood medication and revealed her identity to Josh, convinced that she could win him back if he knew she was still alive. Josh was shocked and ordered Veronica to leave. Instead, Veronica shot Josh dead and ran downstairs, only to be confronted with Nikki returning home. Nikki saw the crazy look in Sarah's eyes and tried to call for help, but Sarah shot her and fled.
Miguel arranged for the out of work Veronica to waitress at the Mexican restaurant. But Veronica's boss, Barry, sexually harassed her. Miguel socked him and he fired Veronica. Miguel then persuaded Victoria Newman's novelist husband Cole Howard to hire her as his research assistant. Veronica accepted Miguel's marriage proposal, and he took her to meet his newly widowed recently recovered employer at the ranch to arrange for their post marriage living arrangements. Nikki didn't recognize her as Sarah.
Veronica was aghast to learn that Cole was researching the shooting of Josh for his new novel. Nikki mentioned to Victor that Veronica seemed familiar, and how concerned she was for Miguel who barely knew his new fiancé. Victor suggested she run a background check. Veronica was afraid Nikki would recognize her and resolved that Nikki had to die. When Nikki decided to take a moonlit horse ride, Veronica took her gun and headed for stables. Meanwhile, Cole and Malcolm compared Veronica and Miguel's engagement photo with Sarah's wanted poster and decided they were the same woman. Victor stopped by the ranch just as an old photo of Veronica fell out of one of Josh's medical books Miguel was packing. At the same moment they realized Veronica was Josh's first wife, Cole called and told them that Veronica and Sarah were the same person. Victor and Miguel headed directly for the stables where they found Veronica holding Nikki at gunpoint. Miguel distracted Veronica, while Victor wrestled her for the gun. During the struggle, Veronica impaled herself on a hay hook. When Miguel found Veronica dead, he held her in his arms and wept.
After not being seen in years, in 2008 it was revealed that Miguel had left the Newman's employ to take care of a sick Aunt. Nikki and Victor were splitting up, and sent him an old clock that he once admired as a remembrance.

Post a Comment

Share on Facebook

Tweet this

Submit Feedback