New Contracts Keep Case, Woodland With Y&R
by
Dan J Kroll

Posted Wednesday, March 05, 2003 6:54:29 PM

There was a possibility that The Young and the Restless would lose two of its high-profile blonde actresses. Both Sharon Case (Sharon Newman) and Lauren Woodland (Brittany Hodges) had been in intense contract negotiations with the show for several weeks. Now, however, comes word that both actresses have inked new deals and will remain with the show.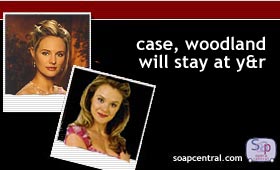 Some fans became concerned when both actresses were missing-in-action from the daily Y&R episodes. Show executives opted to keep both actresses off-screen while contract talks took place. According to an inside source, the show had been prepared to recast the role of Brittany if Woodland did not sign a new contract. As for Sharon, the source says, the character would have been written out if Case and the show did not reach a new deal.

Woodland and show execs were able to come to an agreement in mid-February. Woodland joined the cast of The Young and the Restless in March 2000. She is not the first actress to play Brittany. Vanessa Lee portrayed Brittany on a recurring basis from late-1999 to February 2000. Woodland states that she was actively involved in the negotiating with the show. One of the reasons the talks took so long, says Woodland, is that she wanted the ability to take on non-soap roles while still under contract with Y&R.

Case, who has been in contract talks since mid-January, reached a deal with the show near the end of February. Case, a Daytime Emmy winner in 1999 for Outstanding Supporting Actress, arrived in Genoa City in 1994. In addition to her Emmy win, Case has amassed another three nominations.