Two-time Daytime Emmy nominee Christel Khalil will return to The Young and the Restless in the role of Lily Winters. Khalil's return after an absence of about a year means that newcomer Davetta Sherwood has been let go.
"Christel Khalil is an extremely talented actress and we are thrilled to have her back in the Y&R family," Y&R executive producer Lynn Marie Latham said in a statement.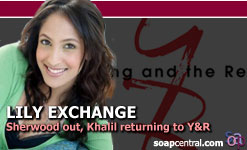 Khalil joined the cast of The Young and the Restless in July 2002 as the third actress to play the role of Lily. In 2005, the young actress surprised fans and show execs alike by announcing that she would not be renewing her contract when it expired. At the time, a setside source told Soap Central that one of Khalil's reps had given the show the impression that Khalil would be re-signing with Y&R - so when Khalil announced her planned departure everyone was caught by surprise. To accommodate her departure, Khalil agreed to stay beyond the original terms of her contract to help the show tie up the character's storyline
"I don't have a mortgage to pay," Khalil noted when explaining her reasons for quitting. "So it's the right time to be unemployed and really go after my dream, which is to be a movie star."
Sherwood began taping her first Y&R scenes in January, about four months after Khalil last aired as Lily. A newcomer to daytime, Sherwood faced the difficult task of climbing into a role held by a fan and peer favorite.
Sherwood will make her final appearance in a few weeks, though CBS has not yet released a date. Khalil, meanwhile, begins taping on September 28th.