Emmy Award winning actress Adrienne Frantz (Amber Moore) is returning to daytime television. And the good news for fans is that she will be reprising the role of The Bold and the Beautiful's Amber. However, in a case of soap opera crossovers, Frantz will be taking her role to B&B's sister soap The Young and the Restless.
In a recent interview, Frantz told Soap Central that she was too busy with outside projects to concentrate on a return to daytime television. However, Frantz said that she would "never say never" to returning to B&B.
So what's up with the return to a soap other than B&B - especially when the two shows are taped in the same location?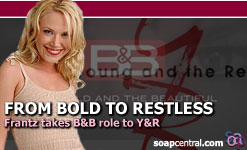 According to setside sources, Frantz's appearance has to do with one of the show's powerhouse November Sweeps storylines - a storyline involving the return of Sheila Carter. On B&B, Sheila and Amber started off as pals, but later their relationship took a sour twist. Fans of Y&R will remember that Sheila was last seen going under the plastic surgeon's knife. Since that time - and with the recent mentions of Sheila - fans have wondered if Sheila has returned to Genoa City with a new face.
Kimberlin Brown (Sheila Carter) last appeared as Sheila in January 2006.
In addition to her brief guest appearance on The Young and the Restless, Frantz is gearing up for the release of a new album later this fall called, "Anamoly." She is also slated to appear as Erica in the based-on-a-true-story straight-to-video thriller Ed Gein: The Butcher of Plainfield sometime in 2007.
This is not the first time that Frantz's name has come up in discussions of The Young and the Restless. Nearly a year ago this week, Frantz denied reports that she was joining the Y&R cast as Jennifer Foster.
"I was not cast as Jill's niece," Frantz said in a statement. "I love Y&R and everyone on it, but my heart is with B&B and playing Amber."

Frantz appears on The Young and the Restless on November 28th.