The Young and the Restless executives have been working overtime lately in an effort to get the show back on track after a three-month long writers' strike disrupted the show's regular storytelling. Part of this endeavor includes subtle nods to the show's 35-year history. While several other familiar faces from the show's past are headed back to Genoa City, there's one star who will not be making the trip.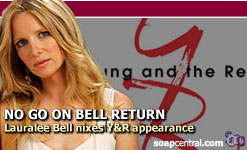 Lauralee Bell (Christine Williams) has declined requests to return to the show. Despite a persuasive power lunch with her own mother, Y&R co-creator Lee Phillip Bell, and the pleadings of sister-in-law Maria Arena Bell, the show's new co-head writer, Bell passed on a short-term return.
"I've never been pressured so much in the nicest way than when I was asked to come back," Bell told Soap Opera Digest.
Bell explained that she wants to return when the show crafts a substantial storyline for her. The idea of serving as a background character doesn't appeal to the actress.
It's been three years since Bell last appeared as a contract player on The Young and the Restless. Since then, she has appeared sporadically in Genoa City. Her most recent appearance as Christine actually came in June 2007 -- but it was on Y&R's sister soap, The Bold and the Beautiful.
Although absent from Y&R, Bell has been leading a busy life. She juggles acting, operating a clothing store and spending time with her family, but Bell has made it clear that her family comes first. That family is composed of husband Scott Martin and children Christian and Samantha, now seven and five years old.
Bell has wrapped two other acting projects since leaving The Young and the Restless. Her lips are sealed about a television pilot that she recently filmed. The other project is the Easy Rider prequel, Scarlet Cross, an independent film scheduled for release in 2009. Coincidentally, Bell worked with Chris Engen (Adam Wilson) on that movie before Engen landed his Y&R role.
In addition to acting, Bell also operates On Sunset, an upscale Los Angeles clothing boutique she founded in 1999.