Last week, the Internet was abuzz over the purported firing of one of The Young and the Restless' Michael Muhney (Adam Wilson). The uproar started when the actor posted an message on an Internet site that seemingly implied that he'd taped his final scenes.
"Can't believe this is my last day on the set of Y&R," Michael Muhney (Adam Wilson) wrote via Twitter. "Gonna miss everyone sooo much. They are all such a good group of folks, cast & crew!"
Due to the nature of Twitter's instantaneous dissemination of information, fans were immediately in an uproar. The reaction also revisited the furor that took place when Muhney joined the show, taking over when Chris Engen opted to the leave the show for personal and creative reasons. On Soap Central's message boards, some fans questioned why the show would ditch a popular character and a talented actor. Others approved of Muhney's apparent dismissal, saying that Adam had become too sinister. Still more regretted that the show incorporated gay themes into Adam's storyline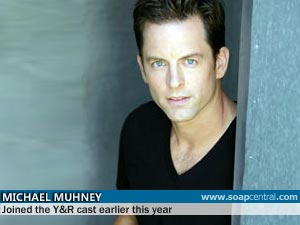 About ten minutes later, Muhney offered another tweet that clarified the situation.
"Mwahahaha!! *evil laugh* It's my last day THIS WEEK!" Muhney explained. "Adam ain't goin' nowhere! I'll be back next week, and the next, and the next... I am laughing so hard I'm crying. It was not very nice. But HILARIOUS! just wanted to liven-up an otherwise bland Thursday afternoon!"
While most fans were relieved to find out that Muhney was just being a jokester, not everyone appreciated his sense of humor. Muhney also revealed that his own father had contacted him after reading the Twitter post to see if he'd really been fired.
"Wow. Seems like 99% of u enjoyed a silly little 10 second prank. But I apologize to the 1% that got mad. Life can be silly, you know? Smile."
On a more serious note, Muhney also stated that he'd been called back into the studio, presumably to address the prank with the show's higher-ups. Earlier this year, Y&R execs reportedly imposed limits on what actors can and cannot post on Twitter, Facebook, and similar sites. The restrictions were the result of a cast member's "tweet" about a future key storyline development.