Two years after turning down requests to return to the show, Lauralee Bell (Christine Williams) has apparently had a change of heart. The actress will return to The Young and the Restless this summer.
As previously reported by Soap Central, Bell declined numerous requests in recent years to return to Y&R including one made at a 2008 "power lunch" with her mother, Y&R co-creator Lee Phillip Bell, and sister-in-law, co-head writer Maria Arena Bell.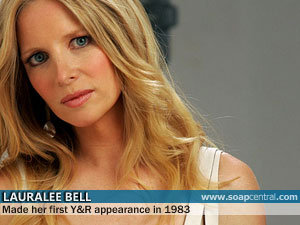 Bell has maintained that she has never been pressured into returning to The Young and the Restless. The actress has also stated that she would return to the show when she could be part of a substantial storyline.
It's been nearly four years since Bell last appeared as a contract player on The Young and the Restless. Since then, she has appeared sporadically in Genoa City. Her most recent appearance as Christine actually came in June 2007 -- but that was on Y&R's sister soap, The Bold and the Beautiful.
Although absent from Y&R, Bell has been leading a busy life. She juggles acting, operating the Los Angeles clothing boutique, On Sunset, and spending time with her family, but Bell has made it clear that her family comes first. Last year, Bell launched the online comedy series, Family Dinner, which she mused was created to help viewers "calculate how crazy [their] own family really is!"
Bell originated the role of Christine in 1983. In 1996, she earned a Daytime Emmy nomination for Outstanding Supporting Actress.
A first airdate for Bell has not yet been announced, but the actress will return to the Y&R set in June. Her stint will be short-term, though the show has not yet offered any details on how long fans can expect to see Christine when she returns to town with a secret about Paul and Nina's children.