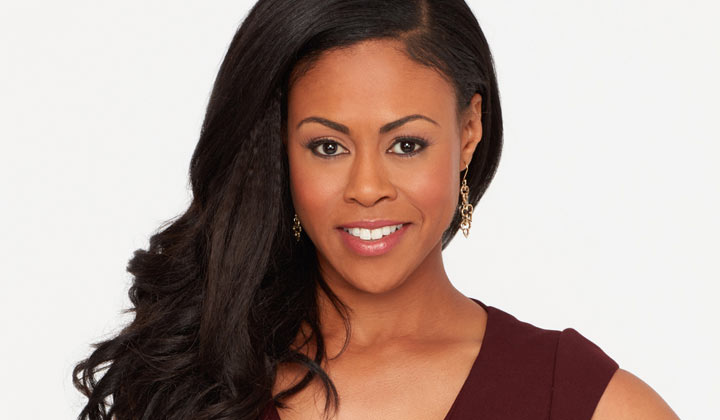 Jordan Ashford
Vinessa Antoine
Undercover agent for the Federal Drug Enforcement Agency
Head of distribution for the Jerome drug operation (while working undercover)
Gallery manager at the Jerome Gallery
Former drug dealer
Formerly employed at a dentist office Formerly prison
Formerly Maryland Single/Widowed (Thomas Ashford, Sr.) Thomas Ashford, Sr. (deceased) Unknown
Thomas "T.J." Ashford, Jr.
(son, with Thomas Ashford, Sr.) Mickey Diamond (flirtation while working undercover)
Shawn Butler
(kissed)
Served two years in prison for dealing drugs [revealed Apr 16, 2014]
Arrested for drug trafficking (while working undercover) [May 21, 2014]
Majored in art history [revealed Apr 2, 2014]
Badge number is 3663518
Jordan Ashford's son T.J. preceded her in Port Charles when she sent her teenaged son to live with Shawn Butler. Shawn and Jordan's husband Thomas had been close friends until Shawn accidentally killed Thomas when they served in the Marines together. Jordan struggled to raise T.J. and she asked Shawn to care for him. A couple years later, Jordan arrived in town to check on her son's safety after T.J. had been caught in an organized crime dispute between Shawn's employer Sonny Corinthos and the Jerome organization.
Shawn and T.J. both assured Jordan that T.J. was safe from Julian Jerome but Jordan still planned to leave town with her son. When he refused, she remained in Port Charles and took a position at the Jerome art gallery. Shawn warned Jordan to stay away from the Jerome family and threatened that it may be time to tell T.J. about her past. Jordan insisted that she had changed and began work with the Jerome family. On her first day, she offered to sell the drugs the Julian shipped into town and revealed that she had experience as a dealer. Julian took Jordan up on her offer and she took over as the head of distribution for the Jerome family.
Jordan quickly settled into her new position but made sure that T.J. remained in the dark about her real job within the Jerome organization. Despite her efforts, T.J. learned the truth after she was arrested for drug trafficking. He was disappointed in his mother and swore that he wanted nothing to do with her. Meanwhile, Jordan secretly revealed that she was an undercover agent working for the Federal Drug Enforcement Agency and teamed up with Police Commissioner Anna Devane to bring down the man at the top of the Jerome organization.