According to an AMC insider, All My Children will soon be bringing back Kendall Hart, the eldest daughter of Erica Kane.
Viewers will remember that Kendall was last played by Sarah Michelle Gellar, who won an Emmy for her work in 1995. Gellar has since gone on to find fame as Buffy in the UPN series Buffy: The Vampire Slayer as well as a host of feature films.
Gellar will not be reprising her Emmy-winning role on AMC; the role will be recast.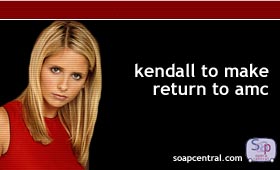 When Kendall was last seen on-screen, she was leaving town with Del Henry to go to stay with her ailing adoptive father, Bill Hart, and his wife, Alice. Before leaving, Kendall and Erica were able to make amends, and their rocky relationship seemed to be at least partially patched up.
Winsor Harmon, who played Del Henry, Dixie's half-brother, has since moved on to find success as The Bold and the Beautiful's Thorne Forrester. Harmon just signed a long-term contract with B&B, so his return to AMC is also out of the question.
Casting calls for a character named "Candy" went out earlier this fall. It was believed at the time that the character would be a new one. However, an insider hints -- and several other soap outlets are now reporting -- that the character's name was just a smokescreen to keep fans from finding out about Kendall's return.
ABC declined to comment on the reports that Kendall is returning and would not specifically mention if any actress had been cast in the part of "Candy." It is expected that Kendall will return to Pine Valley by year's end.