Though it is still unconfirmed by ABC, Soap Central is again reporting that Rebecca Budig (Greenlee Smythe) is poised to leave All My Children when her contract expires later this year. And now, Budig herself is breaking her silence about her future with the show.
It was back in May that Soap Central first reported that Budig had decided to leave the show. According to an inside source, it was then that Budig informed network execs that she wanted to leave the show. By giving such advanced notice, Budig is said to have wanted to give the show's writers adequate time to wrap up her storylines. The decision to exit the show is strictly that of Budig and is not a result of budget cuts or other network-related issues.
"Over the past year, as happy as I've been on the show, I have also found myself wondering what else may be out there. Feeling the desire to challenge myself and grow as a person and an actress," Budig said in a statement on her official web site. [For more from Budig, please click here.]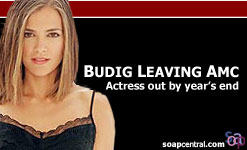 During her tenure with All My Children, Budig has earned two Daytime Emmy nominations. Before joining the cast of the ABC soap in August 1999, Budig appeared as Michelle Bauer on CBS's Guiding Light.
There were rumblings this summer that AMC might try to recast the role of Greenlee. At the present time, however, it is looking less and less likely that the show will opt to go that route. Instead Greenlee will exit the canvas when Budig leaves the show.
All My Children is not Budig's only acting job at the moment. She currently hosts Full Frontal Fashion on the WE network. The show is currently in its second season. Rumors have already surfaced that Budig may jump ship to another soap -- one of the more inventive stories has Budig joining General Hospital as Brenda Barrett. But an insider tells Soap Central that Budig simply wants some time to herself and time to enjoy her relatively new married life. Budig is married to Bob Guiney, the star of an installment of ABC's The Bachelor and occasional pitchperson for ABC's Daytime lineup.
A final airdate has not yet been announced for Budig. The actress will, however, continue to air through November.