Since ABC announced in early August that it was moving production of All My Children from New York to the West Coast, many fans have worried that some -- or all -- of their favorite stars might not want to relocate, leaving the show with a transcontinental divide. While not every cast member's decision has been accounted for, it's looking more and more like All My Children: Los Angeles will look very much like All My Children: New York.
Last month, TVGuide Canada reported that some veteran AMC players were planning to refuse to move to Los Angeles as a way to block the show's relocation. The network and show stars seemed poised for a collision, particularly when a spokesperson noted that, "If an actor is under contract, their contract applies, regardless of where the show tapes."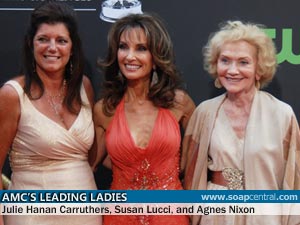 According to whispers, Susan Lucci (Erica Kane), Thorsten Kaye (Zach Slater), and Alicia Minshew (Kendall Hart) all declined ABC's request to relocate to Los Angeles. Rather than risk losing the three stars, the network has decided that it will allow stars to commute to the West Coast to pre-tape episodes. This will allow ABC to hang on to its top performers and permit the actors to continue living in their homes back east.
In an appearance on ABC's The View shortly after the move was announced, Lucci was unwilling to commit to packing up and moving to California. While repeatedly pressed by the show's co-hosts to let fans know that she'd be continuing on as Erica Kane, Lucci said only, "I don't know what I'm going to do. I am trying to wrap my mind around it."
Vincent Irizarry (David Hayward) never had any intention of uprooting and following AMC to California. The recent Emmy winner will commute to work, which is similar to what the star did from 2007 to 2008 when he appeared as David Chow on CBS's The Young and the Restless.
Whereas it has been rumored that ABC planned to help its stars out on the move by offering them a stipend to help cover some of their moving expenses, it's being reported that the network will not pay for travel expenses incurred by stars who want to remain in New York. Those costs -- plane tickets, lodging, and other related expenses -- will be left to the actors to pay.
Cameron Mathison (Ryan Lavery) and Melissa Claire Egan (Annie Lavery) both confirmed to Soap Central at this year's Daytime Emmys that they'd be making the move. Published reports have Bobbie Eakes (Krystal Carey), Jamie Luner (Liza Colby), and Debbi Morgan (Angie Hubbard) all looking forward to moving to Los Angeles.
There are still some question marks on the AMC roster, actors who have been reported as not wanting to move to California. Those stars include David Canary (Adam Chandler), Darnell Williams (Jesse Hubbard), and original cast member Ray MacDonnell (Joe Martin). However, now that the network has apparently relaxed its must-move policy, it would seem that the likelihood of their remaining with the show has improved.
Meanwhile, as previously reported by Soap Central, non-contract players will not be relocated. This could very well mean that AMC viewers will not see Jennifer Bassey (Marian Colby), Jill Larson (Opal), Lucy Merriam (Emma Lavery), or any of the other child actors once the show sets up shop in Los Angeles.
Taping in New York is scheduled to end on December 11, giving the cast and crew a little over a month off to make the westward move. Taping in Los Angeles begins on January 4, 2010. The first LA-taped scenes will air in February.
An ABC spokesperson was unavailable for comment at post time, however, Soap Central will bring any statements to you as soon as they're made available.
Photo Credit: Brandon Gonzales/Soap Central