ABC has finally released the much-anticipated list naming which All My Children stars will be heading west when the show packs up and moves production to Los Angeles in January.
Since ABC announced in early August that it was moving production of All My Children from New York to the West Coast, many fans have worried that some -- or all -- of their favorite stars might not want to relocate, leaving the show with a transcontinental divide. As previously reported by Soap Central, All My Children: Los Angeles will look very much like All My Children: New York.
Nearly the entire cast of contract players is making the move. Brittany Allen (Marissa Tasker), David Canary (Adam Chandler), Bobbie Eakes (Krystal Carey), Melissa Claire Egan (Annie Lavery), Stephanie Gatschet (Madison North), Ricky Paull Goldin (Jake Martin), Shannon Kane (Natalia Fowler), Michael E. Knight (Tad Martin), Jamie Luner (Liza Colby), Adam Mayfield (Scott Chandler), J.R. Martinez (Brot Monroe), Cameron Mathison (Ryan Lavery), Debbi Morgan (Angie Hubbard), Cornelius Smith Jr. (Frankie Hubbard), Denise Vasi (Randi Hubbard), Darnell Williams (Jesse Hubbard), and Jacob Young (JR Chandler) are all California-bound.
Susan Lucci (Erica Kane) and Vincent Irizarry (David) will continue to appear on All My Children, but as previously announced, both will commute to and from Los Angeles when needed for work. Both will maintain their permanent residences on the East Coast.
"I made my final decision just a couple of days ago," Lucci told the Associate Press.
There are some notable names absent from the move list.
Original All My Children cast member, Ray MacDonnell (Joe Martin) has announced that he will retire from full-time acting. MacDonnell, who, with Susan Lucci, is the only original cast member still on AMC, may continue to make special appearances in the future.
"We wish him well and our heartfelt congratulations," an AMC spokesperson said of MacDonnell's decision to retire.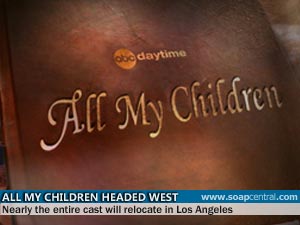 Also not making the move is Emmy-nominated Thorsten Kaye (Zach Slater). Kaye has informed network executives that he will not be relocating to California. The actor, who with his long-time partner, Susan Haskell (Marty Saybrooke, One Life to Live), has two children, has previously expressed his unwillingness to be apart from his family. "I am not the kind of dad who wants to be 3,000 miles away from my kids," Kaye told the New York Daily News in August.
"Thorsten is not relocating to LA with AMC, and he is not commuting to AMC after its move," read a message on the actor's official message board attributed to the site's moderator. "It looks as if his last AMC tape date may be in November."
A final airdate for Kaye has not been announced, though show sources hint that there are still behind-the-scenes negotiations going on that may keep Zach Slater in Pine Valley.
Alicia Minshew (Kendall Hart) will begin maternity leave in November, though the actress' alter ego will continue to appear into December. Minshew will return to All My Children after her baby is born -- her first.
As previously reported, Aiden Turner (Aidan Devane), Beth Ehlers (Taylor Thompson), and Brianne Moncrief (Colby Chandler) will not be joining the show in Los Angeles. The three performers have been let go and their characters will be written out in advance of the move.
Meanwhile, Chrishell Stause (Amanda Dillon) has revealed that she will continue with All My Children, just not as a contract player.
"Yes I am moving to LA, but I am not signing a new contract with AMC," Stause tweeted to fans. "I love the show dearly but am going to try and do some other things. Hopefully, I will still film with AMC, but not as a contract player."
None of the show's recurring players are currently scheduled to continue with the show. It is, however, possible that performers such as Jill Larson (Opal) will appear if the situation warrants their appearances.
All My Children will tape its final episode in its Manhattan studio on December 11. The show will then have a month-long hiatus while production moves to Los Angeles. When all the crates are unpacked, AMC will have have about twice the studio space in Los Angeles as it had in New York. In addition, ABC will begin broadcasting All My Children in high-definition.
--->

RELATED STORY
Reaction to who's moving, who's not in a special Two Scoops

RELATED STORY
Aiden Turner "shocked" by his firing from AMC

RELATED STORY
Despite hiring fanfare, AMC cuts Beth Ehlers from the cast

RELATED STORY
Jill Larson discusses her AMC future, says she wants to continue after move

RELATED STORY
ABC announces that its moving production of AMC to Los Angeles