Since the death of James Mitchell (Palmer Cortlandt) last week, All My Children fans have been wondering how -- and if -- the ABC soap would address the actor's death on the show. Now, Soap Central has learned that the show is currently working on a proper sendoff for Mitchell's character. With the show recently naming a new head writing team, composed of David Kreizman and Donna Swajeski, and storylines already penned for at least another month or so, Palmer's funeral will not air until April 20.
As All My Children prepares to address Mitchell's death on-screen, several of the actor's former co-stars are speaking out about the loss of their dear friend.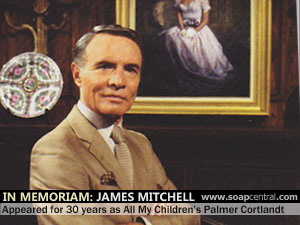 On his Facebook page, Vincent Irizarry (David Hayward), who once played Palmer's stepson, said that he was "saddened and sorry to say goodbye to a dear soul, Mr. James Mitchell ... AMC has lost one of its most precious children, indeed. The man was a true gentleman and wonderful talent. I feel honored and grateful to have had the opportunity to work beside him and to be his friend. Light up the heavens as you did the world you walked upon these many years, beautiful man!"
"James Mitchell was not only an icon, but a deeply sensitive and caring man," noted Debbi Morgan (Angie Hubbard). "He was the utmost professional and it was amazing to watch him work and observe the life he breathed into the shrewd and irrepressible Palmer Cortlandt. I feel so fortunate to have had the opportunity to be in his presence for so many years."
"Jimmy was a very kind, supportive man," added Darnell Williams (Jess Hubbard). "He was gifted with a generosity toward his acting partner that most of us can only dream of. He'll be sorely missed by us all."
"I have so many wonderful memories of James, it's hard to just tell one," Susan Lucci (Erica Kane) offered. "There was this one day, we were both on set, waiting to do our scene. There was some kind of delay and so he came up to me, put his arms around me and we started to dance, right there on set. It was such a special moment. I kept thinking, 'Oh, my goodness. I am actually dancing with Jimmy Mitchell.' He was such a special person. He lit up the room with his warmth, thoughtfulness and charm. He was truly authentic."
---

RELATED STORY
James Mitchell, AMC's Palmer Cortlandt, dead at 89
---