On April 20, the residents of Pine Valley gather together after learning that the feisty Palmer Cortlandt has succumbed to a heart attack. The character's portrayer, James Mitchell, passed away in January from chronic obstructive pulmonary disease at the age of 89.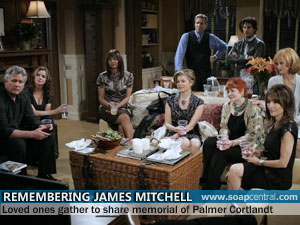 In keeping with Mitchell's request that he wanted no formal memorial service or "fuss" to be made about his passing, Palmer's memorial service is set in the Martin living room. In an interview with Soap Opera Digest, Jill Larson (Opal Cortlandt), who was very close to Mitchell in real life, explained that All My Children writer Lorraine Broderick helped to craft the very special episode. In an ironic twist, Mitchell also helped to set the tone for the memorial episode thanks to some unscripted scenes he filmed just before his death.
"After he recorded his few lines [for All My Children's 40th anniversary episode], he said, 'Keep the cameras rolling.' And he improvised as Palmer, talking about the Dobermans and the women in his life," Larson revealed. "It was extraordinary to see."
Broderick knew that Mitchell's ad-libbed material existed, and she used some of it to frame the memorial episode.
All My Children invited Gillian Spencer (Daisy Cortlandt) and Taylor Miller (Nina Cortlandt) to participate in the episode. Both actresses are involved in touching -- and even surprising -- revelations.
In related story news, the death of his rival prompts Adam Chandler to do some soul-searching. The resulting story helps usher five-time Daytime Emmy winner, David Canary, off the show. Canary announced in February that he'd be retiring. He last airs on April 23.
James Mitchell first appeared as Palmer Cortlandt in 1979. He quietly retired from acting in 2009. For more on the life of James Mitchell, please read James Mitchell, AMC's Palmer Cortlandt, dead at 89
Photo Credit: ABC