Daytime Emmy winner Josh Duhamel (Leo duPres) will return to All My Children before the series airs its final episode on ABC in September.
"Everyone at All My Children is thrilled and excited to welcome Josh back to Pine Valley. The appearance of Leo is sure to be one of the highlights of the season," Julie Hanan Carruthers, AMC's executive producer, said.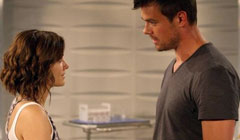 According to Entertainment Weekly, Duhamel will pop up in "an August episode (or two?)," but it's unclear if his daytime alter ego is alive or dead.
Introduced as a con artist in 1999, in 2002, Leo and his druglord mother, Vanessa Bennett, tumbled over a waterfall and were presumed dead. Their bodies were never found. Duhamel's Leo last appeared in a fantasy sequence in November 2002.
Since leaving daytime, Duhamel has gone on to find fame and fortune in feature films. He has appeared in the Transformers series, the latest of which hits theaters later this month, and, most recently, in the romantic comedy Life as We Know It. In 2009, he married Black Eyed Peas singer Stacy "Fergie" Ferguson.
Wildly popular during his three-year run with All My Children, Duhamel picked up a 2002 Outstanding Supporting Actor trophy at the Daytime Emmys. He was also nominated in the category in 2000 and 2001.
Duhamel taped his return on June 16. He'll appear on-screen on August 4.