All My Children fans troubled by the lack of on-air time by Walt Willey (Jack) might be in for some bad news. It's possible -- repeat, possible -- that Willey could be leaving the show in the not-so-distant future.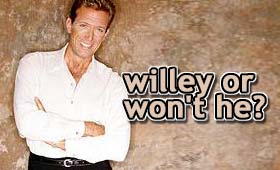 As first reported as part of our behind-the-scenes Emmy coverage, Willey's contract with AMC expires in July. According to an AMC insider, ABC is trying to cut some of its expenses by trimming the size of Willey's paycheck.
If this sounds familiar, it very well should. The smaller paycheck was one of the apparent sticking points in the failed contract talks between James Kiberd (ex-Trevor) and the folks at ABC. Unclear at this time, however, is whether or not the new contract - even with a reduced salary - would give Willey more screen time.
"Considering his on-air time recently," the insider tells Soap Central, "he should be glad he isn't getting paid by the line!"
Willey, however, assures fans that he's not going anywhere, or at least that he doesn't want to go anywhere.
"As for my leaving the show: Hogwash!" Willey said on his official web site. "I have every intention of negotiating in good faith with [the show] and I am sure that they intend the same. The outcome, of course cannot be known, but I have always said, and still maintain, that '[T]hey can take me out of Pine Valley in a pine box!'"