The sun set on Friday, November 19 and ABC and James Kiberd had still not come to an agreement on the actor's contract. That, unfortunately, also meant that the sun had set on the character of Trevor Dillon.
Kiberd has been portraying Trevor Dillon since June of 1989. He's at the end of the second year of a three-year contract with the network. According to sources, ABC had the option to pass on renewing the actor's contract and the network did exercise this option. Since no agreement was reached, the actor's contract effectively expired. Now there are plans to write out the character of Trevor Dillon by the end of the winter.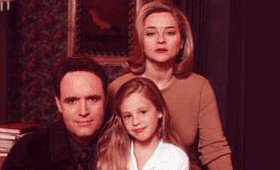 Reports from both sides tend to vary. A source at the network says that ABC presented Kiberd with a "very generous" offer. The terms of this offer were not made public. From the other side of the fence, Kiberd is said to have rejected the offer. He presented a counter-proposal to which the network promptly rejected.
No one from either side has spoken publicly. ABC does not comment on its stars' contracts. Soap Opera Central has contract Kiberd's camp for an official statement, but we've yet to hear back with anything definitive.
There's no word on how Trevor will be written out of the show. It has been said, though, that the role will not be recast.