Rumors making their way around the Internet are questioning Marj Dusay's (Vanessa Cortlandt) future with All My Children.
Dusay joined the cast of AMC on February 4, 1999 fresh from a long-term run as Guiding Light's Alexandra Spaulding.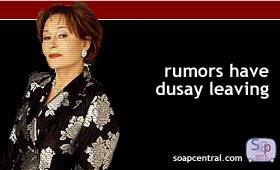 Though Dusay's spokesperson declined to return calls regarding her future with the show, rumors questioned her future circulated when head writer Richard Culliton hinted that he'd like to see Opal and Palmer back together.
Dusay is no stranger to the soap opera community. In addition to her roles on AMC and GL, Dusay has appeared as Days of our Lives' Vivian Alamain in 1993, Pamela Capwell on Santa Barbara from 1987 to 1988 and again in 1991 and Myrna Clegg on Capitol in 1982.
With Capitol and Santa Barbara off the air, there'd be few chances for Dusay to reprise one of her previous roles. Dusay served only as a temporary replacement for fan-favorite Louise Sorel. DAYS has since written Vivian off the canvas and the show does not appear poised to bring back the character. As for Guiding Light, there are some insiders that indicate that there are some hard feelings on the part of GL executives because Dusay left the show suddenly for her role on AMC.
Dusay's contract with AMC is set to expire early in 2002 and negotiations are said to be ongoing. An AMC spokesperson reminds us that the network does not comment on contract status.