Michael Nader (ex-Dimitri Marick) has filed a $34 million lawsuit against the ABC television network. The lawsuit, stemming from Nader's February 2001 arrest on drug charges, seeks $1.74 million in unpaid wages, $25 million in compensatory damages and $5 million for emotional distress.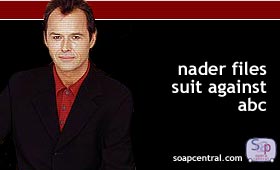 According to Nader, ABC refused to allow him to return to work on All My Children after treatment in a drug rehabilitation center. When asked to be released from the remainder of his contract, Nader contends that the network refused and he was subsequently prevented from finding work on other daytime programs.
has covered every angle of Michael Nader's troubles since his arrest in March 2001. Following are highlights from our news archive. Simply click a link to review that story.
Mar 5, 2001:
Nader arrested

Apr 2, 2001:
ABC says Nader could return

May 14, 2001:
Charges against Nader reduced

Jun 11, 2001:
Dimitri to be written out
---> Nader states that he signed a four-year, $1.74 million contract with All My Children in April 2000. After Nader's arrest in February 2001, the role of Dimitri Marick was "temporarily" taken over by Guiding Light veteran Anthony Addabbo. Charges against Nader were reduced in April 2001 following the actor's successful treatment at a drug rehab center.
An official statement by ABC indicated that the network had left the door open for Nader's possible return.
"If Mr. Nader gets the help he needs and addresses his problem, and if it makes sense for the show, we would be prepared to speak with Michael in the future," the network said in a released statement.
The character of Dimitri was written off the AMC canvas on July 9, 2001.
An ABC spokesperson declined to comment on the lawsuit, stating that the network had not yet reviewed the paperwork.