According to a posting on her official web site, Marj Dusay (Vanessa Cortlandt) has been released from her contract with All My Children.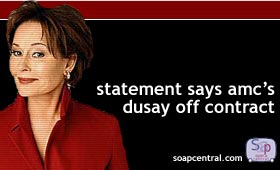 In January, talk of Dusay's imminent exit surfaced when her character was revealed to be an international drug lord using the moniker "Proteus." While soaps are notorious for writing bad-doers out of seemingly impossible situations, AMC viewers began to wonder if a woman who had committed murder several times over was redeemable.
Though the exit rumors began to swirl, Dusay had just signed a new multi-year deal with the show in December. According to an industry insider, however, most shows have "out clauses" that allow them to cancel a performer's contract about every 13 weeks. It is believed that the network has opted to exercise this right.
The timing of Dusay's exit is somewhat unfortunate. Prior to her role on All My Children, Dusay played Alexandra Spaulding on CBS's Guiding Light. Recently, that soap cast former Dynasty star Joan Collins as Alexandra. It is unclear if GL execs would have considered Dusay for the part if she had been available.
A spokesperson for All My Children would not offer comment on the statement, stating that it is not network policy to comment on contracts or internet rumors.
Dusay joined the cast of All My Children in February 1999. Her final airdate has not yet been announced.