Though it has yet to be confirmed by the network, Soap Central has learned that Christian Campbell (Bobby Warner) has been released from his contract with All My Children.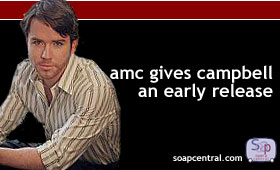 Campbell took on the role of Bobby Warner in March 2004, a role played previously by Brian Gaskill from 1995 to 1997. Since that time, Campbell has had little in the way of story -- even when he received ample on-screen time. Bobby's dealings since reappearing earlier this year have included trying to repair his strained marriage to Anita Santos and sheltering Erica Kane during her brief days as a Las Vegas showgirl.
Campbell will soon be seen in the Showtime movie musical Reefer Madness. The movie also stars his sister, actress Neve Campbell. Campbell shouldn't have too much difficulty finding post-All My Children work. To date, the actor has appeared in at least a dozen primetime television spots as well as a handful of movies.
While Campbell's days in Pine Valley have apparently drawn to a close, there is reportedly no indication that the same fate will befall Campbell's on-screen co-star, Natalia Cigliuti (Anita Santos).
A show spokesperson declined comment, saying that it is not network policy to discuss actors' contracts. Campbell is expected to last air in January.