Despite efforts to quiet them, the whispers that Eva LaRue (Maria Santos) will exit All My Children later this year are growing louder and louder. Rumors that LaRue might exit the show first surfaced when it was revealed that she and former co-star John Callahan's (ex-Edmund Grey) real life marriage was ending.
LaRue has repeatedly expressed a desire to return home to be around her family in California - especially now that she and Callahan have separated. Career prospects on the West Coast look quite promising for LaRue. The actress landed a recurring role on The George Lopez Show, earlier this year as the sister of the title character played by George Lopez. Additionally, LaRue has a role in a pilot that is under consideration for the fall lineup.
This would not be the first time that LaRue has left All My Children. In 1997, the actress jettisoned the daytime world to appear in a primetime series, the UPN network's "Head Over Heels." The sitcom was panned by critics and viewers weren't too fond of it either. After airing just a few episodes, the show was cancelled.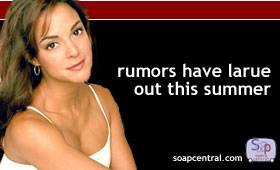 LaRue then focused her attention on her family. In December 2001, LaRue and her husband welcomed daughter Kaya Mckenna. While ABC executives reportedly were trying to coax LaRue back to All My Children, LaRue expressed her desire to remain with her daughter. In June 2002, however, LaRue reconsidered and rejoined the cast of All My Children.
Upon her return to All My Children, LaRue was thrust into a front burner storyline. But as the storyline came to its conclusion, LaRue and her character were not often seen on-screen. It was around that same time that the actress' personal life took precedence over that of her on-screen alter ego.
"We have a rather big bombshell to drop and we don't quite know how to say it," LaRue said in a statement in July 2004. "John and I, after many months of separation, are confirming our split."
The actress assured fans that her real life situation would not play out on the airwaves.
"We want to assure all the [Edmund and Maria] fans that we are dedicated to protecting these characters we love so dearly," LaRue offered. "We have always looked out for each other, and nothing will ever change that. So far we're excited about the way the new story is going."
In February 2005, an unknown killer took the life of Edmund Grey and with it came the end of John Callahan's 13-year run on All My Children. And, if insiders are correct, July will mark the end of LaRue's presence in Pine Valley as well. Reportedly, LaRue has already informed show execs that she will be exiting and the writers are already at work on how to write out her character.
An ABC spokesperson reminded Soap Central that "ABC does not comment on contracts."