All My Children star Rebecca Budig (Greenlee Smythe) is the winner of the first season of ABC's reality-on-ice series, Skating With the Stars. Budig bested underdog and cook/Real Housewives of New York cast member Bethenny Frankel in the two-part finale.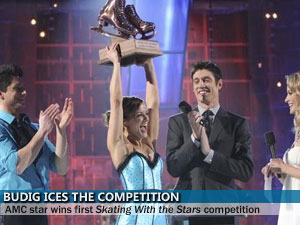 "I'm amazed. I'm shocked. I'm flattered," Budig gushed upon learning she'd won.
In her final skate, Budig earned the first perfect score of the five-week competition: 60 out of 60 points (30 for technical skill and 30 for artistic impression). Budig had routinely led the leaderboard, never dropping below second place.
Also included in the first season's run was movie star Sean Young, who recently appeared as the troublemaking Meggie on CBS's The Young and the Restless. Mötley Crüe frontman Vince Neil, Disney Channel star Brandon Mychal Smith, and Olympic gold medal skier Jonny Moseley rounded out the cast.
Though not the ratings juggernaut of its ballroom companion, Skating averaged about four million viewers. However, like Dancing With the Stars, a soap star was crowned the first-ever champ. General Hospital's Kelly Monaco (Sam McCall) was the first winner of Dancing's coveted mirror ball trophy in 2005.
"This is like a childhood dream for me, so I feel giddy," Budig revealed.