As The World Turns has successfully lured away another departing ABC soap opera star. The latest addition to the Emmy Award winning show's cache is General Hospital's Réal Andrews (Marcus Taggert).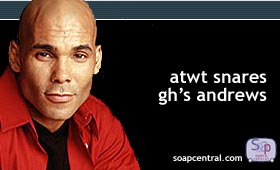 Andrews, an on-and-off member of the General Hospital cast since 1996, announced earlier this year that he would be not be renewing his contract with the ABC soap. Andrews also appeared occasionally in his same role on GH spinoff, Port Charles, and has been working without a contract since February 2nd.

"Although I have agreed to work off contract through March," said Andrews, "I feel it is time for me to move on. These past several years have been an incredible blessing. I have had the opportunity to work with some of the most talented actors I know."

On As The World Turns, Andrews will play the newly created role of forensic pathologist, Walker Daniels. According to Andrews, his contract with the CBS soap is a three-year deal.

Andrews is not the first high profile ABC soap star to land in Oakdale. Last year, the show snared Cady McClain (Rosanna Cabot) fresh from a long-term run as All My Children's Dixie Martin. Last month, show execs stunned fans and media alike with the announcement that Roger Howarth had permanently departed his role as One Life to Live's Todd Manning to join As The World Turns.

Andrews final airdate on General Hospital is May 8th. The actor began work on As The World Turns on April 25th and will make his first on-screen appearance on June 5th.